"Whether or not we continue to enforce a universal conception of human rights at moments of outrage and incomprehension, precisely when we think that others have taken themselves out of the human community as we know it, is a test of our very humanity."
Judith Butler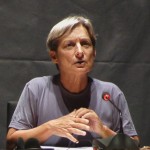 Het zal niet elke maand zijn dat Filosofie Magazine geconfronteerd wordt met de bezetting in Palestina. De Amerikaanse filosoof Judith Butler zal op 11 september de prestigieuze Adorno-prijs in ontvangst nemen. Zij is vooral bekend vanwege haar onderzoek naar gender en identiteit. Zij is echter ook ethica en heeft veel geschreven over de rol van religie, nationalisme en geweld in onze cultuur. Een van haar inspiratiebronnen is – niet verrassend – Hannah Arendt.
De Adorno-prijs is een prijs van de stad Frankfurt die wordt uitgereikt op 11 september, de geboortedag van de filosoof Theodor Adorno (1903-1969). Misschien verrassend voor iemand wiens filosofie zo in het teken stond "van de bewustwording en verwerking van de Holocaust" (1), maar Adorno keerde al in 1949 terug naar Frankfurt om filosofie en sociologie te gaan doceren. Misschien dat hij om die reden ook niet meer echt actueel is, zijn werk geeft vooral een tijdsbeeld weer. Zoals Jan Hoogland het formuleert: "Waar Plato in sommige opzichten nog een hedendaags filosoof lijkt, is dit bij recente denkers als Adorno een stuk minder het geval." (1)
Dat zegt echter niets over de waarde van deze prijs. Grote namen als de componist Pierre Boulez, de regisseur Jean-Luc Godard en de filosoof Jacques Derrida gingen Butler voor.
De commotie die deze keer ontstond over de toekenning, kwam van de 'Zentralrat der Juden in Deutschland' en van een rechtse denktank en lobbygroep met de bedrieglijke naam 'Scholars for Peace in the Middle East'. De rechtse Israëlische krant Jeruzalem Post publiceerde enkele uitgebreide kritieken op Butler onder de duidelijke titels Frankfurt to award US advocate of Israel boycott en Judith Butler  and the Theodor Adorno Prize.
Butler zou geen (goede) filosoof zijn als ze alleen propaganda zou nabauwen. In een universele benadering van waarden kun je geen zwart-witonderscheid maken tussen terreur die voortkomt uit onderdrukking en staatsterreur. Zo plaatst zij de anti-imperialistische verzetsbewegingen Hamas en Hezbollah terecht binnen de sociaal-politiek-culturele context van het Midden-Oosten. Wat iets heel anders is dan "terrorisme steunen". Daarnaast is zij het eens met bepaalde onderdelen van de BDS-beweging, die Israël op een geweldloze manier wil dwingen een einde te maken aan de bezetting door middel van het boycotten van bepaalde goederen en een academische en culturele boycot.
De taktiek van 'guilt by association' is een van de meest gebruikte in het invloedrijke kamp dat geen kwaad woord over Israël wil horen. Wie herinnert zich niet de campagnes – ook hier in Nederland – die gevoerd werden om de opvarenden van de Gaza Freedom Flotilla in 2010 (en van die in 2011 die niet doorging) af te schilderen als gevaarlijke terroristen?
Butler nam de moeite te reageren en hoewel er op haar filosofische werk nog wel eens kritiek kwam vanwege het 'ondoorzichtige taalgebruik', is zij in haar reactie glashelder.
In my view, there are strong Jewish traditions, even early Zionist traditions, that value co-habitation and that offer ways to oppose violence of all kinds, including state violence. It is most important that these traditions be valued and animated for our time – they represent diasporic values, struggles for social justice, and the exceedingly important Jewish value of "repairing the world" (Tikkun).
Het moet voor Joden waar ook ter wereld wel buitengewoon pijnlijk zijn, wanneer er telkens weer radicaal-rechtse verdedigers van het Apartheidsregime pretenderen uit naam van alle Joden te spreken. Zoals duidelijk blijkt uit de lijst van prijswinnaars sinds 1979 zijn het vooral onafhankelijke denkers en doeners die deze prijs verdienen, juist niet degenen die vanuit een benauwend tribaal wereldbeeld de andersdenkenden verketteren. Het argument dat de naam van Adorno door het slijk wordt gehaald is dus ook volkomen misplaatst.
De ironie gaat zelfs nog verder. Adorno's boek 'De autoritaire persoonlijkheid' gaat juist in op de elementen die volgens hem leiden tot antisemitisme. De psycholoog Gidi Rubinstein concludeert:
Though The Authoritarian Personality was intended to identify antisemitism by its posited association with right wing politics and authoritarianism, Rubenstein's research in Israel revealed that that Orthodox Jews scored higher on the these traits than Reform Jews, and that both groups scored higher than secular Jews.
Je zou dus kunnen concluderen dat de aanvallen op Judith Butler vooral gepleegd worden door mensen die in het denken van Adorno juist voldoen aan de criteria om antisemiet te worden.
George Orwell schreef in 1945 al dat veel zionisten hem voorkwamen als 'omgekeerde antisemieten' ("antisemites turned upside-down, just as many Indians and Negroes display the normal colour prejudices in an inverted form.") (2).
Het is – zoals zo vaak – een ongetwijfeld onbedoeld effect van de censuur dat de prijsuitreiking nu meer aandacht krijgt dan normaal het geval zou zijn geweest. Als slechts enkele lezers van het brave Filosofie Magazine zich gaan afvragen waar filosofie nu eigenlijk over gaat, dan heeft Butler bereikt waar de meeste filosofen alleen maar over kunnen dromen. Het zijn in de wereld vereist een identiteit en mensen als Judith Butler maken ons duidelijk dat zijn zonder ethiek geen optie is.
Engelbert Luitsz
1. Filosofen van deze tijd, tiende druk 2008
2. George Orwell, Antisemitism in Britain, early february 1945
Abu Pessoptimist: Frankfurt kent Adorno-prijs toe aan Judith Butler, tot woede van joodse organisaties
Filosofie Magazine: OPSCHUDDING NA TOEKENNEN ADORNO-PRIJS AAN JUDITH BUTLER