"President Kruger used to say that the white Christians were the chosen of God and Indians were inferior beings created to serve the whites."
Mahatma Gandhi
"Like all occupations, Israel's was founded on brute force, repression and fear, collaboration and treachery, beatings and torture chambers, and daily intimidation, humiliation, and manipulation."
Benny Morris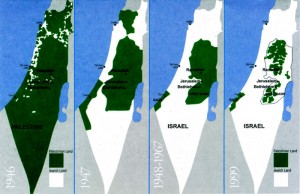 In 1920 maakte de Vrede van Sèvres een eind aan het Ottomaanse Rijk. Het Ottomaanse Rijk had het meer dan 600 jaar volgehouden en bestond uit een aantal provincies en vazalstaten met verschillende vormen van autonomie. De Turkse nationalisten van Kemal Atatürk speelden een grote rol bij de uiteindelijke opdeling door dit eerste verdrag af te wijzen om uiteindelijk in 1923 (de Vrede van Lausanne) een eigen, internationaal erkende, staat uit te roepen.
Een stuk uit dit oude rijk, dat tot op heden voor grote onrust zorgt, was het Mandaatgebied Palestina. Palestina kwam onder administratief bewind van Groot-Brittanië te staan, onder toezicht van de Volkenbond. Het zionisme had toen al een flinke vinger in de politieke pap, gezien de toezeggingen die gedaan werden in de tekst van het mandaat om de Joden een 'nationaal thuis' te bieden. Deze waren gebaseerd op de beruchte Balfour-verklaring, een kattebelletje uit 1917 aan Walter Rothschild, ter attentie van de Zionistische Federatie. Nog volledig in de geest van het kolonialisme kon het Westen bepalen waar de grenzen en prioriteiten lagen. Het mandaat spreekt zich in algemene termen duidelijk uit over het feit dat  "nothing should be done which might prejudice the civil and religious rights of existing non-Jewish communities in Palestine", en is het ook duidelijk over "safeguarding the civil and religious rights of all the inhabitants of Palestine, irrespective of race and religion."
Zoals bekend gingen zelfs deze algemene voorschriften, die door geen zinnig mens als overdreven kunnen worden beschouwd, de zionisten te ver. In 1921 was reeds de Haganah opgericht, een paramilitaire organisatie die later de kern zou gaan vormen van het huidige Israëlische leger (de IDF). Later splitsten zich hier regelrechte terreurbewegingen van af.
De zionisten zagen de Engelsen als het grote struikelblok in hun streven naar alleenheerschappij over Palestina. De Palestijnen waren uiteraard bang dat het kolonialisme weer in ere zou worden hersteld, met de zionisten als handlangers van het imperialisme.
Vanaf het begin van de jaren '20 kwamen de eerste verontruste memo's van waarnemers van de Volkenbond. Niet alleen de grote aantallen Joden die Palestina binnenkwamen, maar vooral hun agressieve en racistische houding ten opzichte van de lokale bevolking, baarde zorgen. Het duurde dan ook niet lang voordat de eerste rellen uitbraken. Het Britse leger herstelde aanvankelijk de rust en rekende het vooral de zionisten aan dat zij met hun "ongeduld om hun uiteindelijke doel te bereiken" de spanningen zo hoog hadden laten oplopen.
Desondanks werd er weinig gedaan om de Palestijnen te beschermen. Hun hoop op zelfbeschikking, dat even leven was ingeblazen na de val van het Ottomaanse Rijk en in de tijdgeest van het Arabisch nationalisme,  werd steeds kleiner. De zionisten daarentegen gingen steeds feller tekeer, tot de Engelsen uiteindelijk, na de zoveelste terreuraanslag, hun mandaat niet wilden verlengen. Eén dag voor het aflopen van het mandaat, op 14 mei 1948, werd de onafhankelijke staat Israël eenzijdig uitgeroepen door David Ben-Gurion.
In 1930 had de Britse staatssecretaris voor de Koloniën nog maar eens herhaald wat iedereen wel wist: "In the Balfour Declaration there is no suggestion that the Jews should be accorded a special or favoured position in Palestine as compared with the Arab inhabitants of the country."
Tevergeefs, naar we nu weten.
Terwijl in de Gazastrook de mensen gevangen blijven zitten en bijna dagelijks vanuit de lucht of vanaf zee worden bestookt door het Israëlische leger, wordt op de West Bank in hoog tempo gewerkt aan het verwijderen van ongewenste bevolkingsgroepen. Alle propaganda ten spijt, is het voor steeds meer mensen duidelijk dat een van de sterkste legers ter wereld zich vergrijpt aan een weerloze bevolking met als enig doel het etnisch zuiveren van de Palestijnen.
Acties
Op vrijdag 7 september is er een verkiezingsdebat in Amsterdam over 'Israël, Palestina en de Nederlandse politiek'.
Op 28 november zal er een groot internationaal congres plaatsvinden in Brazilië. Brazilië was in 1947 voorzitter van de Algemene Vergadering van de Verenigde Naties waarin over het verdelingsplan van Palestina werd gestemd.