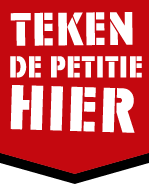 NOG GEEN 100.000. Teken hier: http://www.kinderpardon.nu/
Limburgser dan Vlaai. Noord-Hollandser dan kaas. Frieser dan de Elfstedentocht. En Zeeuwser dan het meisje. Dat zijn de kinderen die ons land moeten verlaten. 14 jaar oud, 10 jaar in Nederland. 9 jaar oud, 8 jaar in Nederland. 13 jaar oud, 13 jaar in Nederland.
Teken hier: http://www.kinderpardon.nu/
Als wij niks doen, ligt hun toekomst in Irak, Afghanistan, Eritrea, Angola. Landen waar ze de taal niet van spreken, waar ze niemand kennen, waar ze vreemden zijn. Wij laten dit niet gebeuren. Deze kinderen horen hier. Wij willen een kinderpardon. Wij willen ze uit onzekerheid halen en welkom heten in hun land. Daarom deze hartenkreet.
Minister Leers, doe niet zo kortzichtig. Laat zien dat Nederland groot kan zijn. Of het er nu 20 of 2.000 zijn, deze kinderen horen hier. Geef ze de kans om een mooie toekomst in Nederland op te bouwen. Geef ze de kans om mee te bouwen aan een mooie toekomst voor Nederland. Geef ze een kinderpardon!
Teken hier: http://www.kinderpardon.nu/
Angela Groothuizen, Marco Borsato, Paul de Leeuw, Khalid Boulahrouz, Jörgen Raymann,
Humberto Tan, Jan Mulder, Anna Drijver, Patrick Lodiers, Thomas Acda, Filemon Wesselink,
Manuel Broekman, Vincent Bijlo, The Opposites, Appa, Hanneke Groenteman, Eric Corton,
Margriet Eshuijs, Daphne Bunskoek. Peter van der Vorst, Tanja Jess, Hind, Georgina
Verbaan, Peter R. de Vries, Waylon, Halina Reijn, Nasrdin Dchar, Jolande Sap en Tofik Dibi.
Teken hier: http://www.kinderpardon.nu/