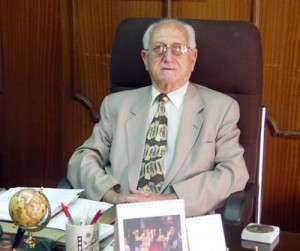 "This year is I think the hardest Christmas we are facing," he said. "The wall is turning this city into a big prison for its citizens. There is confiscation of land, closure of the main entrances to the city. All this has a physical and a psychological effect. We can only hope for change."
Dit zei de burgemeester van Bethlehem in 2006 in een artikel in The Guardian.
We zijn nu 5 jaar verder en gisteren stond er een stuk in de regionale kranten van de hand van Ad Bloemendaal. De titel luidt "Kerstwens in Bethlehem: boycot Israël".
Toch heeft het Palestijnse Bestuur kerstmis 2011 uitgeroepen tot 'feest van de hoop'. De wonderbaarlijke veerkracht van de Palestijnen boezemt steeds meer ontzag in. Ondanks de dagelijkse treiteringen, het bedreigen, verwonden of doden van Palestijnen door de kolonisten met goedkeuring van het leger, of door het leger zelf; de dagelijkse onteigeningen, het inpikken van land, het vernielen van Palestijns eigendom; ondanks de openlijk racistische religieuze joden, zwaarder bewapend dan Hamas; ondanks de sluipende ethnische zuivering die al meer dan een eeuw voortduurt; ondanks dat alles is het overgrote deel van de Palestijnen niet gewelddadig, ook al klinken er in Israël zelf af en toe stemmen die het morele recht op gewapend verzet tegen een overheerser onderschrijven
Ook vandaag in Haaretz een artikel van Barak Ravid die Netanyahu citeert: "There is no place in [Israel] for discrimination." Zelfs nu Israël z'n eigen Rosa Parks heeft. Zelfs na de publicatie van The King's Torah, waarin wordt uitgelegd dat het zesde gebod 'Gij zult niet doden' alleen betrekking heeft op Joden onderling. De gojim zijn vogelvrij.
In een paginagroot interview met president Peres in De Telegraaf van gisteren kunnen we tot onze stomme verbazing lezen: "Wij zullen niet degenen zijn die nucleaire technologie in het Midden-Oosten introduceren". Bovendien is volgens Peres iedereen (Arabieren en rechtse Joden) het erover eens dat er een tweestatenoplossing moet komen. Dit staat in schril contrast met de visie van onder anderen Avram Burg, toch geen te verwaarlozen stem in het debat.
De afgelopen week was er een portret van Nelson Mandela door Astrid Joosten op televisie. Een columnist van Reuter verwoordde het zo: "One of the great statesmen of our time, Mandela stayed on the American terrorist blacklist for 15 years after winning the Nobel Prize prior to becoming South Africa's first post-Apartheid president." Obama daarentegen heeft de imperialistische terreur een nieuwe dimensie gegeven ná het ontvangen van de Nobelprijs voor de Vrede.
Victor Batarseh ziet ook nu nog, in 2011, een wereldwijde boycot van Israël als "de enige manier om Israël te dwingen VN-resoluties uit te voeren. Net als destijds tegen Zuid-Afrika".
Ook deze kerst zal nog geen vrede brengen voor de Palestijnen. Als Israël door internationale druk gedwongen wordt eindelijk eens serieus werk te maken van het respecteren van mensenrechten als eerste stap, is er altijd nog de escape die alle dagelijkse beslommeringen naar de achtergrond kan doen verwijnen: een aanval op Iran.
Zowel de kerstman als Israël hebben we te danken aan de Verenigde Staten. Twee mythen die de hypocrisie van het westen mooi symboliseren.
Engelbert Luitsz