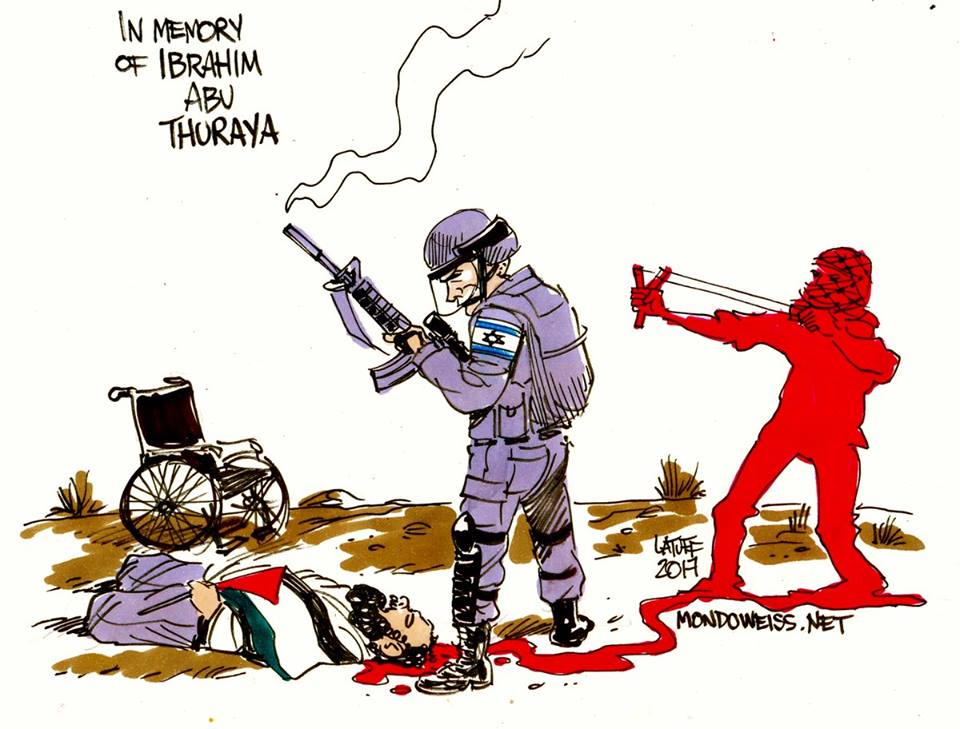 De dood van Ibrahim Abu Thuraia vandaag was exemplarisch voor de werkwijze van het Israëlische leger. Ibrahim, 30 jaar oud, was tijdens Operatie Gegoten Lood van 2008/2009 beide benen kwijtgeraakt tijdens een bombardement. Hij leefde in een van de armste wijken van Gaza Stad en probeerde zich in leven te houden met het wassen van auto's.
Hij werd van grote afstand doodgeschoten door een soldaat die zich buiten de omheining van de Gazastrook bevond. Ibrahim zat op de grond en had alleen een vlag en zijn stem om verzet te plegen. Zijn moordenaar was naar alle waarschijnlijkheid een sluipschutter. Eentje die het vak nog in de vingers moest krijgen en in Ibrahim een perfect trainingsdoelwit vond.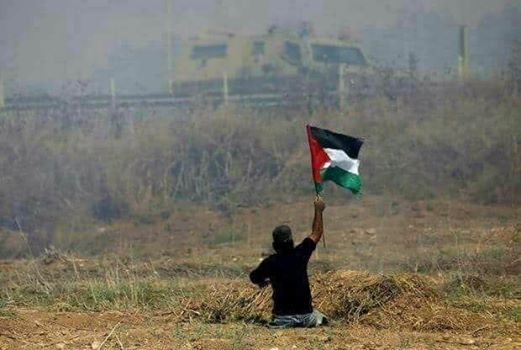 Wat er omgaat in de hoofden van deze sadistische cipiers van de grootste openluchtgevangenis ter wereld is iets waar psychologen in de toekomst misschien iets over zullen kunnen zeggen. Voorlopig is de agressieve propaganda nog in staat (bijna) iedereen het zwijgen op te leggen die het waagt kritiek te leveren, of zelfs maar om een onafhankelijk onderzoek vraagt.
Wanneer moorden een sport of tijdverdrijf wordt, gesubsidieerd door de overheid, zou je verwachten dat Europese politici eens een duidelijk geluid laten horen. Ibrahim raakte alleen zijn benen kwijt, onze politieke leiders zijn ogen, oren en geweten verloren tijdens de jacht op het pluche.
Iyad Burnat, die gisteren al ter sprake kwam en wanhopig probeert zijn 7-jarige zoon vrij te krijgen, had het in een open brief aan het Amerikaans volk (zij zijn de grootste betalers van het zionistisch geweld) over "een methodische terreur die ons volk belaagt en met name de jongeren".
Ibrahims benen werden bijna negen jaar geleden vermoord en vandaag de rest van zijn lichaam. Omdat in de ogen van het superieure volk iedereen die niet tot de stam behoort een existentieel gevaar is, ook al heeft hij geen benen, zit hij gevangen en zwaait hij alleen met een vlag.
Engelbert Luitsz