Israël staat in de top vijf van militair machtigste landen ter wereld. Honderden kernwapens en een groot arsenaal aan andere massavernietigingswapens weerhouden buurlanden ervan dit onzalige land eens een lesje te leren. Geen land durft het aan de waarheid te zeggen. Het zijn de Palestijnse kinderen die soms een steen gooien om hun ongenoegen te uiten, maar net zo vaak doen ze helemaal niets en worden dan toch in elkaar geslagen, gevangen genomen en zelfs gemarteld.
In een volledig gemilitariseerde maatschappij als de Israëlische is er weinig te doen als er geen oorlog is en dus oefent men maar wat op Palestijnse kinderen. Onderstaande voorbeelden van de afgelopen tijd laten zien hoe Israël er in geslaagd is de eigen bevolking zodanig te ontmenselijken dat niet alleen de betaalde uniformen zich op een schandalige manier gedragen, maar dat ook de bevolking zelf niet in opstand komt.
De voorbeelden zijn bij daglicht en spelen zich af voor het oog van de camera, dus hoe walgelijk ook, het zijn nog de "goede" beelden. De martelingen en vernederingen spelen zich af op plekken die terecht het daglicht niet kunnen verdragen.
Edo Konrad: WATCH: Israeli troops beat handcuffed Palestinian in Hebron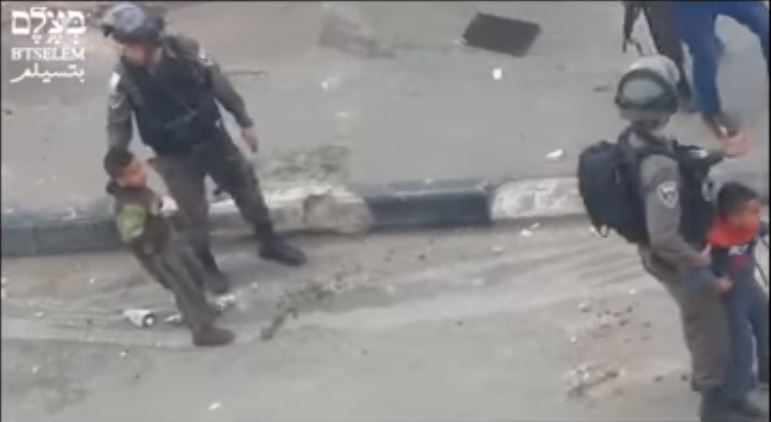 Mairav Zonszein: WATCH: Israeli troops taking away 7 and 8-year-old Palestinian boys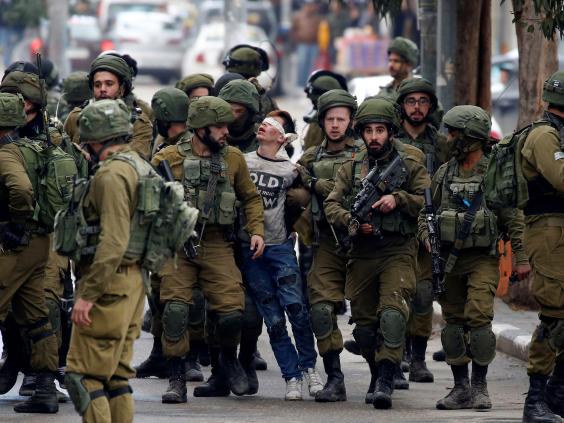 Blindfolded Palestinian boy surrounded by Israeli soldiers in viral photo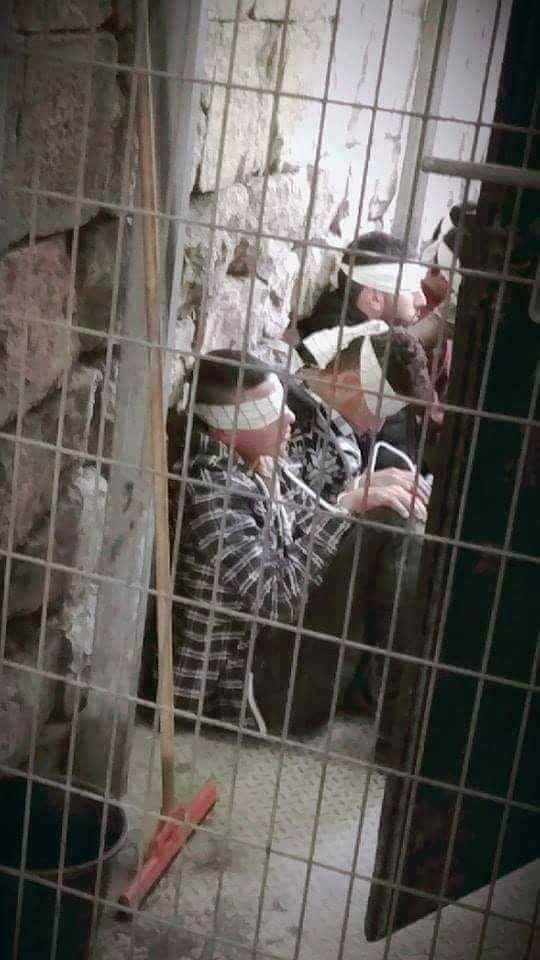 Shocking response of CEO of the Jewish Leadership Council to Lineker's concern over caged Palestinian children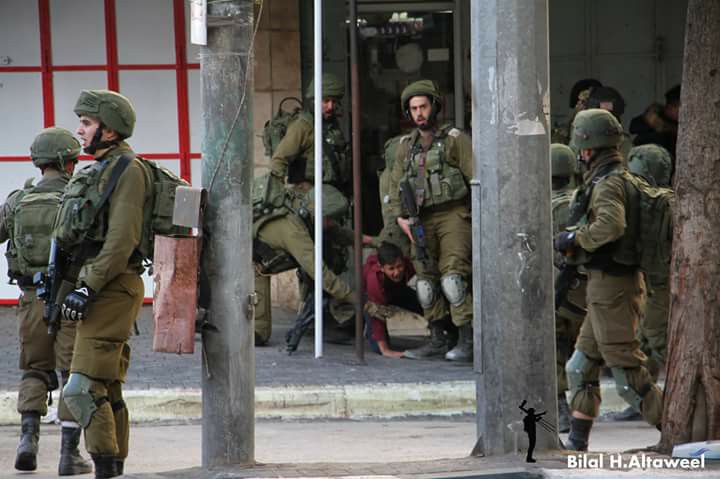 Child of 12 is roughed up, then detained, by Israeli forces in occupied Hebron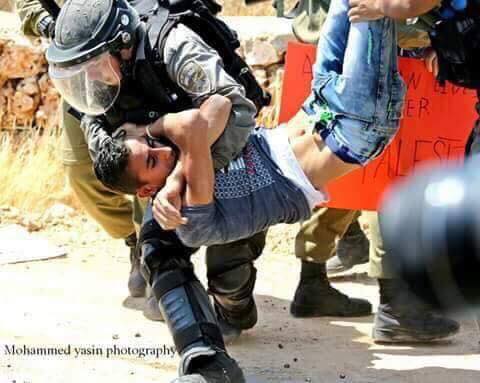 Abdul-Khalik, de zoon van Iyad Burnat, wordt hardhandig gekidnapt door Israëlische fascisten, ook wel "special forces" genoemd. Adbul-Khalik was met twee vrienden onderweg om een pizza te bestellen in Bil'in. Ze zijn alledrie 17 jaar oud.
Iyad Burnat is de leider van het geweldloze verzet tegen de Apartheidsmuur in Bil'in. Al meer dan tien jaar probeert hij in het spoor van Martin Luther King en Mahatma Gandhi de aandacht te vestigen op het onrecht in Palestina. Zijn zoon Majd werd drie jaar geleden neergeschoten door een Israëlisch sluipschutter en raakte ernstig gewond.
Beide gevallen zijn illustratief voor de Israëlische aanpak: proberen mensen die geweldloos verzet prediken dermate te raken dat ze een keer "over de schreef gaan".
De zionistische propaganda, de ultieme schurk in het Palestijnse drama, kan prima overweg met gewelddadig verzet, maar is bang voor een geweldloze houding die hun gedram en gedreig in westerse landen steeds meer in diskrediet brengt.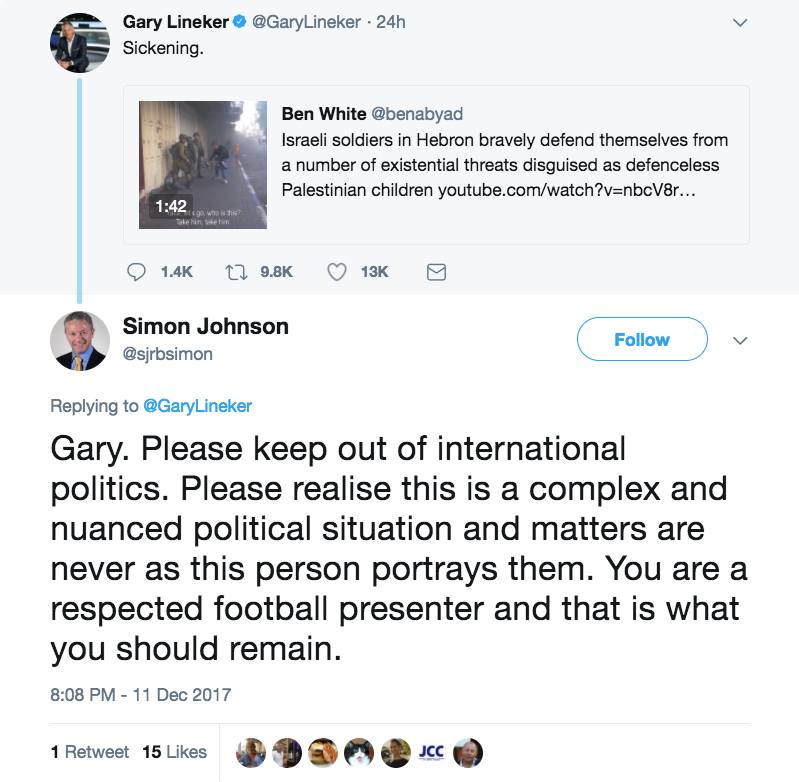 Toen ex-voetballer Gary Lineker op Twitter een video deelde van de manier waarop Palestijnse kinderen door Israëlische soldaten worden behandeld, kwam de Israël-lobby direct in actie. Een nauw  verholen bedreiging van een bobo van de "Jewish Leadership Council", gevolgd door talloze al even onsmakelijke reacties uit Israël en van diverse zionisten (zie ook hierboven).
Ooit zal het toch zover moeten komen dat de wereld zonder omhaal de banden verbreekt met deze schurkenstaat. Bovenstaande voorbeelden kunnen met duizenden worden uitgebreid. Boycot Israël, doe het in ieder geval voor de kinderen.
Engelbert Luitsz