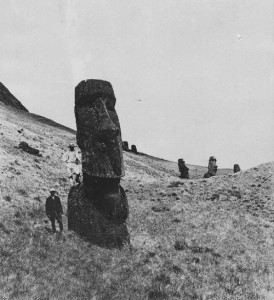 'Globalization is the modern articulation of the ancient ideology used by past elites to turn citizens into serfs and the natural world into a wasteland for profit.'
Chris Hedges, This Time We're Taking the Whole Planet With Us
Richard Lewontin merkte al eens op dat de elites van voor de Franse Revolutie slechts vervangen zijn door andere. Nu zijn het de financiële instellingen, de bankiers, de farmaceutische industrie, de wapen-, landbouw- en voedsellobbies die aan de touwtjes trekken. Met meer macht dan de vroegere aristocratische elites en met beduidend minder moreel besef. In een interview met Mario Vargas Llosa antwoordt Gideon Levy op de vraag hoe hij Israel ziet over 20 jaar: "Me as prime minister, like you as president of Peru, meeting in Switzerland and discussing literature." Met de Arabische Lente en het bewijs dat kerncentrales niet zo veilig zijn als ons wordt voorgehouden door de experts op tv – door de ramp in Japan -, zou je zelfs kunnen speculeren dat er mogelijkheden zijn. Als de Gandhi's en Martin Luther Kings niet direct worden afgeschoten door de machthebbers dan. Maar heeft de atoombom op Hiroshima ons echt iets geleerd? Ooit was er de hoop dat de Holocaust de mensheid zou doen inzien dat het anders moet. Maar zoals Jonathan Cook schreef naar aanleiding van de moord op negen leden van het hulpschip de Mavi Marmara: "The Holocaust's lesson for most Israelis is not a universal one that might inspire them to oppose racism, or fanatical dictators or the bullying herd mentality that can all too quickly grip nations, or even state-sponsored genocide. Instead, Israelis have been taught to see in the Holocaust a different message: that the world is plagued by a unique and ineradicable hatred of Jews, and that the only safety for the Jewish people is to be found in the creation of a super-power Jewish state that answers to no one. Put bluntly, Israel's motto is: only Jewish power can prevent Jewish victimhood."
Prospect Magazine vroeg een paar mensen naar hun ideeën over een betere wereld onder de titel "If I ruled the world".  Arianna Huffington denkt dat de oplossing ligt in meer transparantie:  "At the moment, we are all drowning in spin, smokescreens and lies." Ze haalt de filosoof Plotinus aan, die de drie stappen naar kennis beschrijft: mening, wetenschap en verlichting. De middelen die hiervoor worden aangewend zijn respectievelijk het gezond verstand, dialektiek en intuitie. Vooral aan het laatste – wijsheid zoals zij het noemt – is in onze samenleving veel gebrek. Zoals zovelen ziet ze WikiLeaks als een keerpunt in de journalistiek. Over hoe haar samenleving er uiteindelijk zou komen uit te zien met al die transparantie komen we echter niets te weten.
Richard Dawkins probeert een serieus antwoord te geven. Niet frivool en niet onrealistisch. Zijn sleutelwoord is "intelligent discretion" – intelligent oordeel. Minder regeltjes die mensen reduceren tot halve robots. Het klinkt als een welkome verandering. Ik kreeg ook eens een rekening van 122 euro voor een pakje sigaretten en een broodje. Het meisje achter de kassa keek me stomverbaasd aan toen ik zei dat dat niet kon kloppen. "Kijk maar, hier staat het toch?", wijzend op de kassabon. Het scannen had haar hersenen volledig uitgeschakeld. Ik moest om de manager vragen om uiteindelijk mijn geld terug te krijgen. Maar zoals Dawkins erkent ligt ook bij het eigen oordeel misbruik op de loer: "There must be ways to reintroduce intelligent discretion and overthrow the unbending tyranny of going by the book without opening the door to abuse. If I ruled the world, I would make it my business to find them."
Evenmin als Arianna Huffington laat  Dawkins zich uit over hoe die maatschappij er dan uit zou zien. Zouden transparantie en een intelligent oordeel voldoende zijn om ons te vrijwaren van de neoliberale schurken, van de graaicultuur, de miljoenen verslindende propagandamachines? Misschien is stemmen over honderden jaren niet langer emotie, doch een rationele overweging. Tot die tijd staan juist diegenen die niet schromen over lijken te gaan sterker dan de betrokken idealist. Zolang psychopaten als Alexander de Grote of Napoleon in het westen als helden worden vereerd en Hitler als het ultieme kwaad, is de kans op verbetering niet bovenmatig groot. Zowel de bijbel als de evolutietheorie werden en worden misbruikt door gewetenloze machtswellustelingen. We zouden wel degelijk iets kunnen leren van het verleden, maar laten ons kennelijk toch liever leiden door mensen die beweren dat ze het wel voor ons zullen oplossen. Die diepgewortelde neiging tot overgave aan een machtsstruktuur is net als de al even diepgewortelde xenofobie die ons allen eigen is eerder een voorbode van meer onheil dan van een rechtvaardige verdeling van goederen, of een gelijkwaardige behandeling van alle mensen.
Het Paaseiland is een toeristische attractie, het verdwijnen van de Vikingen uit Groenland door arrogantie en racisme speelt niet eens een rol in het politieke debat. Ook Sparta is ten onder gegaan, maar slechts enkelen willen Israel wijzen op die parallel. Men kijkt liever naar de symptomen dan naar het systeem.