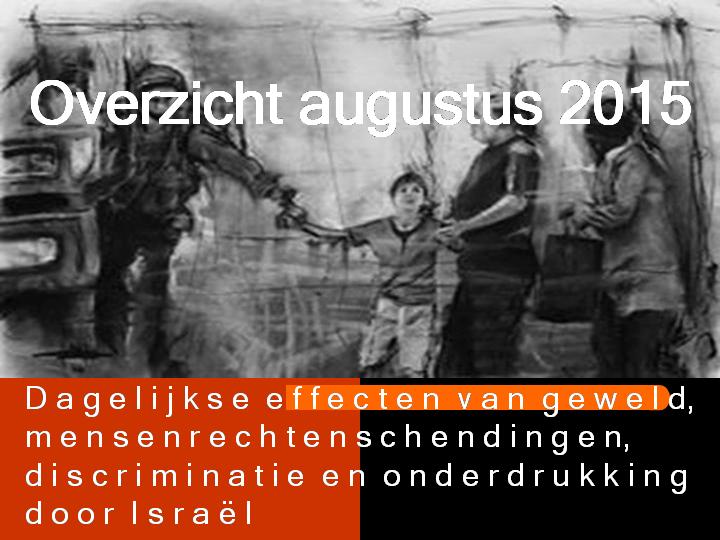 "Groups are only smart when there is a balance between the information that everyone in the group shares and the information that each of the members of the group holds privately. It's the combination of all those pieces of independent information, some of them right, some of the wrong, that keeps the group wise."
James Surowiecki, The Wisdom of Crowds
Net als vorige maand heeft de werkgroep Staat van Beleg een lijst gepubliceerd met een groot aantal "incidenten" in Palestina. Werden er in juli al 200 ernstige gevallen van onderdrukking, discriminatie en andere vormen van geweld tegen het Palestijnse volk geregistreerd, in augustus zijn dat er meer dan 300 met daarbij nog 150 relevante artikelen en rapporten.
Ondanks deze indrukwekkende aantallen toont de verzameling nog maar een deel van de harde werkelijkheid. Alle structurele discriminatie door het Apartheidssysteem, de blokkade van de Gazastrook, de tientallen discriminerende wetten en de dagelijkse vernederingen zijn niet meegenomen. In de lijst is het aantal opgenomen schendingen bij checkpoints erg laag, maar dat komt omdat hier alleen de ernstigste gevallen worden meegenomen. De checkpoints – vaste en mobiele – zijn op zichzelf al een gemeen wapen waarmee het dagelijkse leven van talloze Palestijnen tot een hel wordt gemaakt.
Er is nu gebruik gemaakt van categorieën om het allemaal wat inzichtelijker te maken.
Vergeet niet dat we het hier hebben over één maand! De groep is er in geslaagd in korte tijd veel te bereiken. De lijst is overzichtelijker geworden en een aantal technische problemen is verholpen. Ook nu is het overzicht weer online te bekijken of te downloaden als PDF-bestand.
Waar de politiek het laat afweten en de media – zoals onlangs weer eens bij Jeroen Pauw – een omgekeerde werkelijkheid tonen, is het van het grootste belang dat De Grote Leugen, om een term van Chris Hedges te gebruiken, wordt ontmaskerd. De werkgroep Staat van Beleg laat zien dat het werken aan een betere wereld niet aan de machthebbers overgelaten moet worden. Iedere mens die status verkiest boven mensenrechten brengt ons weer een stapje dichter bij de afgrond.
Bekijk het overzicht op de website van Staat van Beleg, deel de informatie en like hun Facebookpagina.
Engelbert Luitsz