"Het internationaal recht is heel duidelijk over de noodzaak toegang te verzekeren om gewonden in veiligheid te brengen en te verzorgen tijdens conflicten, maar vorige zomer in de Gazastrook werd hulp vaak verhinderd of vertraagd. Nieuwe gegevens laten zien dat 511 slachtoffers [van de meer dan 2100], waaronder 67 kinderen, nooit medische hulp kregen voordat ze kwamen te overlijden, doordat ambulances verhinderd werden ter plaatse te komen."
Ghassan Abu Sittah, een chirurg die tijdens de Israëlische aanval vorig naar in de Gazastrook werkte, in The Independent.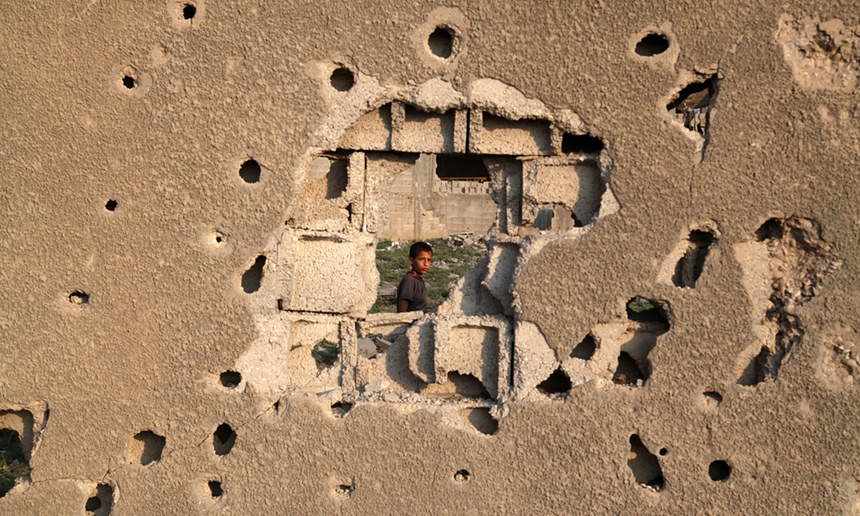 Gaten in de muren van een huis in de Gazastrook door Israëlische kogels en granaten. 75% van de kinderen in de Gazastrook plast in bed en negen van de tien kinderen zegt voortdurend angstgevoelens te hebben, volgens een rapport van Save the Children. (Foto: Majdi Fathi/NurPhoto/Rex)
Ook in Engeland werd deze week aandacht gevraagd voor het feit dat Israël een jaar geleden begon met de meest dodelijke en verwoestende aanval op de Palestijnse gebieden sinds 1967. Activisten blokkeerden fabrieken die eigendom zijn van het bedrijf Elbit Systems uit Israël. Bij die actie werden 19 activisten gearresteerd.
De Britse krant The Guardian publiceerde een brief van een aantal internationale intellectuelen en kunstenaars die hun steun betuigen aan de activisten en aandacht vragen voor de Britse rol in de wapenhandel met Israël. Dat zouden we in Nederland ook graag eens zien, in plaats van dat onze BN'ers zich voor het karretje van het CIDI laten spannen. Minister Hennis-Plasschaert heeft er kennelijk helemaal geen moeite mee zaken te doen met een land dat zich aan de lopende band schuldig maakt aan mensenrechtenschendigen, oorlogsmisdaden, martelingen en het collectief straffen van miljoenen onschuldige mensen. Voor de schijn wordt er natuurlijk gedaan of er meerdere opties zijn, maar na een snoepreisje naar Israël komt de aap uit de mouw: "Uiteindelijk kon in mei 2014 de voorkeursleverancier worden geselecteerd, namelijk de firma Elbit." (Kamerbrief over D-brief over het project Verbeterd Operationeel Soldaat Systeem (VOSS))
Meer over die Britse actie op Electronic Intifada: Protests close four factories owned by Israeli arms firm Elbit.
Nu volgt dan mijn vertaling van de tekst zoals die in The Guardian verscheen onder de titel: Gaza anniversary and UK-Israel arms trade.
***
Woensdag 8 juli is de eerste herdenking van het begin van Israëls gewelddadige aanval op de Gazastrook, precies een jaar geleden (Anguish in Gaza remains raw, 7 July). Afschuw alom over het bloedbad heeft geleid tot ongekende druk op de regering, maar de Palestijnen hebben concrete resultaten nodig, met name de inwoners van de Gazastrook die nog steeds de gevolgen van Israëls illegale en onmenselijke belegering ondergaan. Een nieuw rapport dat vorige week is verschenen van Campaign Against Arms Trade, War on Want en de Palestine Solidarity Campaign laat zien dat ondanks vele en herhaalde aanwijzingen dat Israël zich schuldig heeft gemaakt aan oorlogsmisdaden, meest recentelijk tijdens de aanval vorig jaar op de Gazastrook, de houding van de Britse regering met betrekking tot de wapenhandel met Israël niet is gewijzigd.
Gewone mensen die de BDS-beweging (Boycot, Desinvesteren, Sancties) steunen, komen uit solidariteit met de Palestijnen in actie om de medeplichtigheid van de Britse regering en Israëls straffeloosheid aan de kaak te stellen. Op maandag werden drie Britse fabrieken die eigendom zijn van Israëls grootste wapenfabrikant, Elbit Systems, stilgelegd door demonstranten. Een van deze fabrieken was de UAV Engines fabriek in Shenstone, Staffordshire, die door de Britse regering gelicentieerd is om motoren voor drones aan Israël te leveren. Wij steunen deze demonstranten en willen onze stemmen laten horen om hun oproep aan de Britse regering om Israël niet langer te bewapenen kracht bij te zetten. Wij willen dat alle aanklachten tegen de 19 mensen worden ingetrokken – de werkelijke criminelen zijn zij die dodelijke wapens maken en verkopen – en we herhalen onze collectieve eis dat er direct een tweezijdig wapenembargo voor Israël moet komen.
Mike Leigh, Miriam Margolyes, Ken Loach, PJ Harvey, Ilan Pappe, John Berger, John Pilger, Noam Chomsky, Vandana Shiva, Mairead Maguire, Jeremy Hardy, Alice Walker, Paul Laverty, Slavoj Zizek, Saleh Bakri, Andy de la Tour, Victoria Brittain, Richard Falk, Ben White, Miranda Pennell, Mark Steel, Leila Sansour, Maha Rahwanji, John Rees, Liam Hourican, Annemarie Jacir, Breyten Breytenbach, John Dugard, Elia Suleiman, Aki Kaurismaki, Caryl Churchill