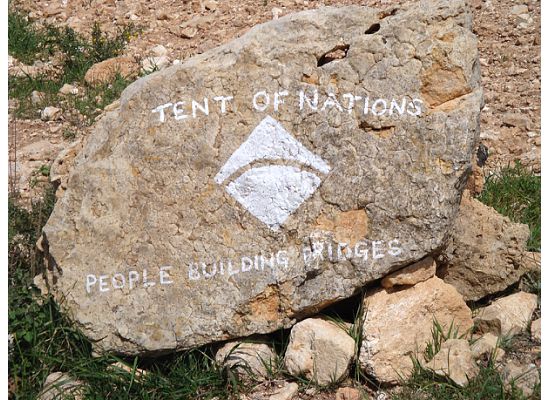 In haar boek Geen Vijanden vertelt de Nederlandse antropologe Anne de Jong over haar verblijf in Israël en de Palestijnse gebieden, alsmede over haar deelname aan de Gaza Freedom Flotilla in 2010. Ze wisselt vaak zeer persoonlijke inzichten moeiteloos af met korte uitweidingen over de politieke theorie achter het geweldloos verzet. Van Gene Sharp, de pionier van de theorie van geweldloos verzet in de 20e eeuw, tot Mary King, die in haar boek The Quiet Revolution de Eerste Intifada analyseert.
De centrale gedachte bij Sharp is dat gehoorzaamheid van de bevolking macht mogelijk maakt. Machthebbers, zelfs dictators, kunnen niet veel zonder medewerking van politie, leger, politici, zakenmensen, arbeiders, wetenschappers en anderen. Dat klinkt door in de bekende uitspraak van de historicus Howard Zinn dat burgerlijke gehoorzaamheid het grote probleem is. De bevolking als geheel vormt een formidabele macht die ook op geweldloze wijze verandering kan afdwingen. Er is daarom niets romantisch of geitenwollensokkkenachtigs aan deze bewegingen, ze zijn nuchter, pragmatisch. en vormen een reëel gevaar voor de heersende elite.
In sommige Palestijnse dorpen worden al sinds jaren vreedzame demonstraties gehouden, meestal op vrijdag. Er zijn verschillende overleggroepen van Palestijnen en joden die samen proberen het gemeenschappelijke te benadrukken. Voor velen die het Israëlische geweld dagelijks meemaken en zien dat er ondanks al dat gepraat alleen maar meer land wordt gestolen, alleen maar meer mensen worden verdreven, is het niet altijd makkelijk om daar het nut van in te zien. Spottend wordt dit wel "hugs en hummus" genoemd, elkaar blijven knuffelen zonder effect op een bezetting die steeds wurgender wordt.
De Jong is eerlijk over wat ze voelde tijdens de agressie en de vernederingen die ze moest ondergaan. Ook bij haar kwam er een moment dat ze woedend werd, ze wist zich te beheersen, maar ze leerde zo een kant van zichzelf kennen waar ze niet trots op was. Ze begrijpt dan pas echt hoe moeilijk het voor de Palestijnen is, die dit jaar in jaar uit moeten ondergaan, om niet te gaan haten. Haat is contraproductief, maar er zijn situaties waarbij het bijna een onmenselijke opgave lijkt om niet te gaan haten.
Tent of nations
Op het gebied van vreedzaamheid en geweldloosheid is er weinig te bedenken dat daar meer aanspraak op kan maken dan het project Tent of Nations bij Bethlehem. Daoud Nassar, een christelijke Palestijn, heeft hier een boerderij op land waarvan de eigendomsrechten terug gaan tot de Ottomaanse tijd. Hier kunnen joden en Arabieren, vredelievende mensen van elk geloof, meewerken aan een plek waar de liefde voor de grond boven elk conflict staat. Het is een educatief en ecologisch centrum.
Als je sommige Israëlische politici hoort praten over de door hen zo begeerde vrede, verwacht je dat dit initiatief goed gesubsidieerd en beschermd zal worden, juist door de bezetters die hun gedrag immers steeds rechtvaardigen met een verwijzing naar Palestijns geweld.
Maar niets is minder waar. Deze oase wordt al decennia belegerd door vijf joodse nederzettingen in de buurt, door het Israëlische leger en de Israëlische regering. In de omringende nederzettingen kan de hele dag gesproeid worden en glinsteren de zwembaden in het zonlicht. De familie Nassar daarentegen moet het zonder stromend water en elektriciteit doen. En toch blijft hun motto: "Wij weigeren vijanden te zijn".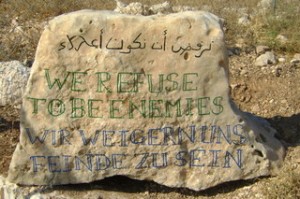 Tent of Nations: We refuse to be ennemies.
De Israëlische autoriteiten hadden eerder al 13 slooporders uitgevaardigd, het was verboden nieuwe gebouwen neer te zetten (zelfs geen tenten) en de in- en uitgangen werden geblokkeerd met rotsblokken. Ook waren er in het verleden al bomen gerooid. Normaal zou je in 10 minuten in Bethlehem zijn, maar door de restricties op beweging voor de Palestijnen kost dit minstens een uur. Op elke denkbare manier probeert de bezetter ook hier het leven zo moeilijk mogelijk te maken voor de inheemse bevolking.
En deze week heeft Israël hier verschrikkelijk huisgehouden. Ongeveer 1500 bomen werden vernietigd bij een Israëlische inval met bulldozers. Een complete vallei met wijnranken, appel-, abrikozen-, amandel-, vijgen- en olijfbomen werd veranderd in een levenloze zandbak. En waarom? Er moet weer een weg komen om de joodse nederzettingen met elkaar te verbinden. Weer een weg die ten koste gaat van Palestijnse grond en waarvan de Palestijnen zelf geen gebruik mogen maken. Het labyrint van wegen, nederzettingen en checkpoints reduceert zelfs de meest hoopvolle Palestijnse initiatieven tot machteloze eilandjes.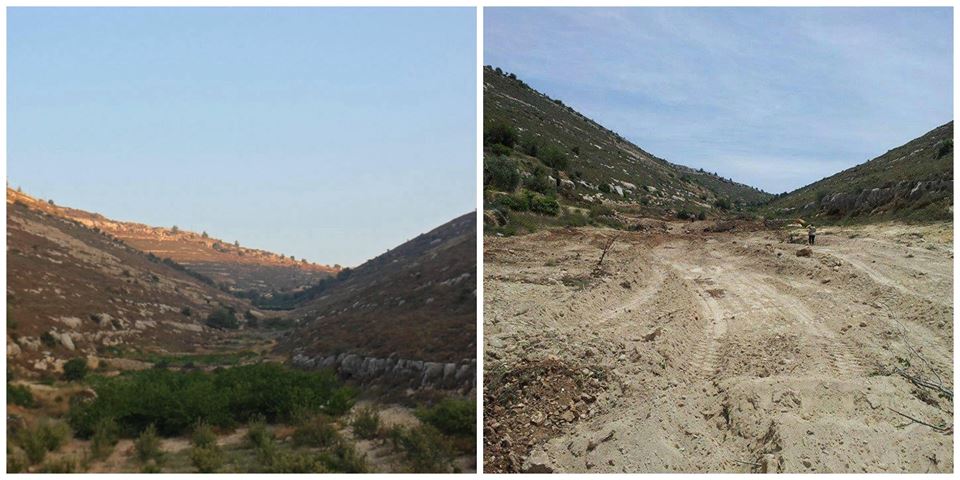 Voor en na de komst van de Israëlische bulldozers. Ironisch genoeg gezien het oude zionistische mantra dat zij "de woestijn tot bloei hadden gebracht". Toen al een leugen en nu nog steeds.
Deze sociocide zoals Johan Galtung het noemde, de vernietiging van het sociale weefsel van de maatschappij, komt tot uitdrukking in de moord op schoolkinderen deze week, de blokkade van de Gazastrook en het rooien van bomen die noodzakelijk zijn voor het levensonderhoud van de Palestijnen. Het lijkt wel of Israël, na elk nieuw rapport dat verschijnt over de misdaden van de joodse staat, met nog meer arrogantie de internationale gemeenschap uitdaagt: "Wij doen gewoon waar wij zin in hebben en trekken ons niets aan van wat jullie vinden. Aan mensenrechten hebben wij geen boodschap en nog minder aan mensenlevens."
Zoals Anne de Jong besluit is het in wezen geen conflict tussen Israëliërs en Palestijnen: "Het is een dagelijkse strijd tegen angst, vooroordelen en haat." Het moge duidelijk zijn hoe deze strijd door de zionisten wordt gevoerd. Deze week hebben ze wederom gezorgd voor meer angst, meer vooroordelen en meer haat.
Ondertussen bezocht onze minister van Defensie Jeanine Hennis-Plasschaert de schurkenstaat om te praten over militaire samenwerking. De timing was weer eens perfect. Ze zal wel niet hebben gevraagd of Amsterdam veilig is voor de Israëlische kernwapens. Nee, het was ongetwijfeld een gezellig onderonsje, hugs en hummus met de blonde stoot die ons land naar de verdoemenis helpt. En wie zouden haar daarbij beter van dienst kunnen zijn dan de gewetenloze helden van het zionisme?
Engelbert Luitsz
Rijksoverheid, Minister Hennis bezoekt Israël
Jan Pronk over Geen vijanden van Anne de Jong
Anne de Jong, Geen Vijanden, Rainbow 2011