"What Israel is doing today cannot be condoned, and to invoke the horrors of the past to justify those of the present is gross hypocrisy."
Bertrand Russell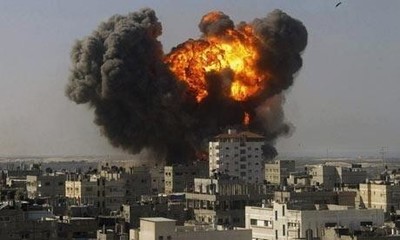 Operatie Wolkkolom in de Gazastrook, 15 november 2012
In 1966 richtte Bertrand Russell het Russell Tribunal op, een volkstribunaal dat als uitgangspunt had dat (oorlogs)misdaden op een gelijke manier benaderd moeten worden, of ze nu aan "onze" kant of aan de kant van de vijand worden begaan. Dit principe komen we ook veelvuldig tegen in het werk van bijvoorbeeld Noam Chomsky. Het tribunaal vindt zijn oorsprong in de oorlog in Vietnam. Daar werden de talloze oorlogsmisdaden van Amerikaanse kant verzwegen. De slogan van het tribunaal is dan ook zwijgen is een misdaad. Naast selectieve berichtgeving in de media is er ook het probleem dat het internationaal recht kennelijk meer van toepassing is op de een dan op de ander. De Verenigde Naties blijven vaak in gebreke wanneer het gaat om de daad bij het woord te voegen wanneer er resoluties worden aangenomen tegen een bevriende natie van een van de grootmachten. Daarnaast misbruikt vooral Amerika z'n vetorecht in de Veiligheidsraad veelvuldig om Israël te beschermen.
In navolging van Russells initiatief ontstond in 2010 het Russell Tribunal on Palestine. Het tribunaal bestond uit 4 thematische sessies en een afsluitende in Brussel. De eerste sessie, in Barcelona, ging over de betrokkenheid van de EU en haar lidstaten bij de bezetting en de onderdrukking van de Palestijnen. De tweede sessie, in Londen, ging over de rol die (internationale) bedrijven spelen bij de bezetting. De derde sessie, in Kaapstad, had – niet verrassend – Apartheid in Israël en de bezette gebieden als thema en de vierde sessie in New York ging over de medeplichtigheid van de Verenigde Staten en de Verenigde Naties aan overtredingen van het internationaal recht door Israël.
Deze korte film (15 min.) geeft een samenvatting van wat er zoal ter tafel kwam gedurende het hele verloop van het tribunaal. We zien aan aantal bekende gezichten, zoals Alice Walker, Roger Waters en Desmond Tutu. Daarnaast zijn er advocaten, rechtsgeleerden, experts op het gebied van mensenrechten, politici en getuigen aanwezig. Ook al heeft het tribunaal geen juridische bevoegdheden, het heeft wel een belangrijke morele waarde door de kwaliteit en het gezag van de deelnemers.
 

Tot op het laatst waren Russells gedachten bij de situatie in Palestina. Onderstaande tekst is gedateerd op 31 januari 1970, twee dagen voor zijn dood op 2 februari. Op 3 februari werd de tekst voorgelezen in Caïro tijdens een internationaal congres van parlementariërs.
De zogenoemde Uitputtingsoorlog met Egypte was toen in volle gang. Kort voor Russel zijn tekst schreef waren er de militaire operaties Rhodes en Priha geweest, waarbij Israël buitensporig veel geweld had gebruikt. Dat voor de context van de eerste alinea, maar Russell trekt het al direct breder en spitst zijn betoog toe op de rol van Israël in het Midden-Oosten en de erbarmelijke situatie van de Palestijnen. Zoals hij duidelijk zegt is de kern van het probleem dat een volk uit z'n land is verjaagd en niet mag terugkeren, een simpele waarheid die nog steeds ontkend wordt door de "verdedigers" van Israël. En "Wat Israël vandaag de dag doet mag niet geaccepteerd worden, en het aanhalen van de gruwelen uit het verleden om die van het heden te rechtvaardigen is bijzonder hypocriet."
Een belangrijke tekst van een belangrijk man. En nog net zo actueel als toen, 43 jaar geleden. Vandaag is het precies een jaar geleden dat Israël Operatie Wolkkolom begon, opnieuw een orgie van geweld en verwoesting, gericht tegen de gevangenen van de Gazastrook. "Een nieuwe wereldwijde campagne is nodig om rechtvaardigheid te brengen aan de al zo lang lijdende mensen in het Midden-Oosten", zo besluit Russell zijn betoog. Hieronder de originele tekst.
The latest phase of the undeclared war in the Middle East is based upon a profound miscalculation. The bombing raids deep into Egyptian territory will not persuade the civilian population to surrender, but will stiffen their resolve to resist. This is the lesson of all aerial bombardment.
The Vietnamese who have endured years of American heavy bombing have responded not by capitulation but by shooting down more enemy aircraft. In 1940 my own fellow countrymen resisted Hitler's bombing raids with unprecedented unity and determination. For this reason, the present Israeli attacks will fail in their essential purpose, but at the same time they must be condemned vigorously throughout the world.
The development of the crisis in the Middle East is both dangerous and instructive. For over 20 years Israel has expanded by force of arms. After every stage in this expansion Israel has appealed to "reason" and has suggested "negotiations". This is the traditional role of the imperial power, because it wishes to consolidate with the least difficulty what it has already taken by violence. Every new conquest becomes the new basis of the proposed negotiation from strength, which ignores the injustice of the previous aggression. The aggression committed by Israel must be condemned, not only because no state has the right to annexe foreign territory, but because every expansion is an experiment to discover how much more aggression the world will tolerate.
The refugees who surround Palestine in their hundreds of thousands were described recently by the Washington journalist I.F. Stone as "the moral millstone around the neck of world Jewry." Many of the refugees are now well into the third decade of their precarious existence in temporary settlements. The tragedy of the people of Palestine is that their country was "given" by a foreign Power to another people for the creation of a new State. The result was that many hundreds of thousands of innocent people were made permanently homeless. With every new conflict their number have increased. How much longer is the world willing to endure this spectacle of wanton cruelty? It is abundantly clear that the refugees have every right to the homeland from which they were driven, and the denial of this right is at the heart of the continuing conflict. No people anywhere in the world would accept being expelled en masse from their own country; how can anyone require the people of Palestine to accept a punishment which nobody else would tolerate? A permanent just settlement of the refugees in their homeland is an essential ingredient of any genuine settlement in the Middle East.
We are frequently told that we must sympathize with Israel because of the suffering of the Jews in Europe at the hands of the Nazis. I see in this suggestion no reason to perpetuate any suffering. What Israel is doing today cannot be condoned, and to invoke the horrors of the past to justify those of the present is gross hypocrisy. Not only does Israel condemn a vast number. of refugees to misery; not only are many Arabs under occupation condemned to military rule; but also Israel condemns the Arab nations only recently emerging from colonial status, to continued impoverishment as military demands take precedence over national development.
All who want to see an end to bloodshed in the Middle East must ensure that any settlement does not contain the seeds of future conflict. Justice requires that the first step towards a settlement must be an Israeli withdrawal from all the territories occupied in June, 1967. A new world campaign is needed to help bring justice to the long-suffering people of the Middle East.
Engelbert Luitsz
Zie ook mijn eerdere artikelen hierover:
Het Russell-tribunaal
Chomsky en het Russell-tribunaal
Het Russell-tribunaal: tweede dag
Na de aanval van vorig jaar november is de situatie in de Gazastrook erg verslechterd, ook, maar niet alleen door de situatie in Egypte. Ze hebben daar niet eens de tijd om een trauma te verwerken, voordat het volgende zich alweer aandient.
PCHR, One Year Following the Israeli Offensive on Gaza: Justice for Palestinian Victims Still Denied