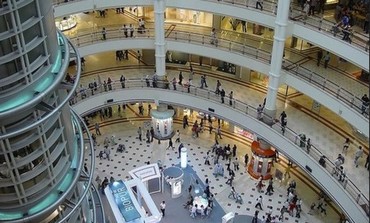 De Gazastrook
Je zou denken dat het Israëlische leger z'n handen vol heeft aan het terroriseren van vrouwen en kinderen, maar nee, ze hebben nog tijd over zelfs. Tijd die ze gebruiken om hun bijdrage te leveren aan de PR-machine. Vorige week publiceerden ze op hun website een serie mooie plaatjes die twee dingen moesten aantonen: 1. de Gazastrook is niet één grote openluchtgevangenis en 2. er is geen sprake van een humanitaire crisis. Dit soort propaganda is niet nieuw, er circuleren ook filmpjes met dezelfde boodschap. In What Happened to the Humanitarian Crisis in Gaza? schrijven ze:
As you can see, there is no humanitarian crisis in Gaza. Many Gazans have money, food and even luxuries that much of the world goes without. What is missing, however, is a stable, democratic government.
Er was alleen één probleem: de foto van een prachtige Shopping Mall bleek niet in de Gazastrook genomen te zijn, doch in Kuala Lumpur. Al snel werd dit bekend en met een flauw excuus werd de foto verwijderd.
In de Gazastrook leven zo'n 1,7 miljoen mensen in een gebied van 360 km² (kleiner dan Zuidelijk Flevoland) en de bevolking bestaat voor 55% uit kinderen onder de 18 jaar. Tussen al die mensen bevinden zich zelfs een paar miljonairs en er zijn een paar mooie restaurants in Gaza-Stad. Maar als we het over de Gazastrook hebben, dan bedoelen we uiteraard het hele gebied, inclusief de vluchtelingenkampen die daar nog steeds zijn sinds 1948. Zoals iemand in de Gazastrook zei: "Wij hadden het leger nog mooiere plaatjes kunnen aanleveren."
Gisha is een Israëlische mensenrechtenorganisatie die zich bezighoudt met de bescherming van de bewegingsvrijheid van de Palestijnen, met name van die in de Gazastrook. Op 7 juli publiceerden zij een factsheet die de beweringen van het Israëlische leger enigszins nuanceren.
Er is op zich genoeg voedsel aanwezig, maar de armoede is enorm toegenomen sinds de blokkade en vanwege beperkingen van de bewegingsvrijheid.
Meer dan 70% van de bevolking is afhankelijk van humanitaire hulp.
De werkloosheid bedraagt 31%.
Er zijn ongeveer 250 scholen te weinig, onder andere vanwege een verbod op het importeren van constructiemateriaal.
Daar kunnen we nog aan toevoegen dat de schappen van de supermarkt gevuld zijn met Israëlische producten, aangezien de economie in de Gazastrook zo goed als stil ligt. Er is zo goed als geen export mogelijk. En hiervan profiteert Israël dus weer. Wie meer wil weten over hoeveel Israël aan de bezetting verdient verwijs ik graag door naar de econoom Shir Hever.
De economie van de Gazastrook was voor het grootste deel afhankelijk van de ongeveer 1000 smokkeltunnels naar Egypte, maar deze zijn na de militaire coup van 3 juli jongstleden gesloten. Volgens een recent stuk van de directeur van Gisha, Tania Hary, is de situatie van en naar Israël de laatste tijd iets verbeterd. Maar dan spreken we nog steeds over enkele vrachtwagens.
Zoals zo vaak in dit "conflict" is het eigenlijk voldoende de zaken even om te draaien. Als er joden in de Gazastrook zouden leven onder dezelfde omstandigheden als de Palestijnen nu, zou men dan nog steeds ontkennen dat er een humanitaire crisis is? Ik vermoed dat er in dat geval binnen een week blauwhelmen of de Amerikanen zelf op de stoep zouden staan om een einde te maken aan deze menselijke tragedie.
Kuala Lumpur (nog een keer)
Alsof het afgesproken werk was kreeg ik gisteren een artikel onder ogen van de Kuala Lumpur War Crimes Commission (KLWCC).
The Kuala Lumpur War Crimes Tribunal (KLWCT) will be hearing war crimes and genocide charges against Amos Yaron, a retired Israeli army general and the State of Israel from 21 to 24 August in Kuala Lumpur.
De website Global Research publiceerde het artikel State of Israel Charged for "Crime of Genocide and War Crimes", Kuala Lumpur Tribunal. Er is een aanklacht tegen Amos Yaron, een van de verantwoordelijken voor de bloedbaden van Sabra en Shatila in 1982, en een tweede aanklacht tegen de staat Israël. Beide worden aangeklaagd wegens oorlogsmisdaden, misdaden tegen de menselijkheid en genocide.
Amos Yaron
The defendant Amos Yaron perpetrated War Crimes, Crimes Against Humanity, and Genocide in his capacity as the Commanding Israeli General in military control of the Sabra and Shatila refugee camps in Israeli occupied Lebanon in September of 1982 when he knowingly facilitated and permitted the large-scale Massacre of the Residents of those two camps in violation of the Hague Regulations on Land Warfare of 1907; the Fourth Geneva Convention of 1949; the 1948 Genocide Convention; the Nuremberg Charter (1945), the Nuremberg Judgment (1946), and the Nuremberg Principles (1950); customary international law, 'jus cogens', the Laws of War, and International Humanitarian Law.
Israël
From 1948 and continuing to date, the State of Israel (hereafter 'the Defendant') carried out against the Palestinian people a series of acts namely killing, causing serious bodily harm and deliberately inflicting conditions of life calculated to bring about physical destruction.
Het is alsof het Israëlische leger een freudiaanse vergissing maakte met hun foto. En ook al zal Israël zich niets aantrekken van dit tribunaal, het zal toch voor alle Palestijnen, in de Gazastrook en elders, een lichtpuntje zijn. Ondanks het feit dat het westen ze al meer dan honderd jaar laat stikken hebben ze hun veerkracht en soemoed behouden. Maar tijden veranderen. De wijzen komen inderdaad uit het oosten.
Engelbert Luitsz
update: Gideon Levy was op vakantie in Kuala Lumpur en schreef er een column over op 30 augustus. Om de ironie compleet te maken ziet hij daar het perfecte voorbeeld van verschillende volken en geloven die vreedzaam en in voorspoed samenleven.