"Fair is foul, and foul is fair,
Hover through the fog and filthy air."
William Shakespeare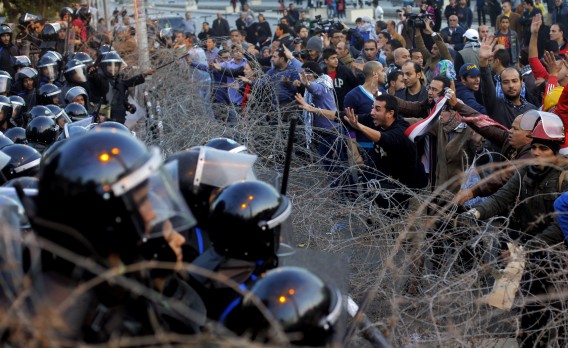 Generaal Abdul-Fattah el-Sisi, de man die president Morsi van Egypte afzette en de regering naar huis stuurde, lijkt dronken van macht. In de New York Times verscheen gisteren een verhelderend stuk over iets wat veel mensen zich ongetwijfeld hebben afgevraagd. President Obama liet weten dat de gezamenlijke militaire oefening Bright Star in september niet zou doorgaan. We hadden eigenlijk ook niet anders verwacht, natuurlijk. Maar het was wel vreemd dat de 1,5 miljard dollar aan militaire steun niet direct was stopgezet. Door het artikel in de New York Times wordt dat duidelijk.
De VS hadden al diplomaten naar Egypte gestuurd om voor vrijlating van twee leden van de oppositie te pleiten, maar ze werden afgewimpeld. Hoe kon het dat el-Sisi zo zeker was van zijn zaak? Vanaf 24 juli gingen westerse diplomaten zich pas serieus aan de zaak wijden. De beschrijving van de generaal doet sterk denken aan Kaddafi* in betere tijden.
Western diplomats did not engage in earnest until July 24, when General Sisi, in dark sunglasses and military regalia, delivered a fiery speech asking the public to turn out for demonstrations giving him a "mandate" to take on the Islamists.
Deze man is ondertussen al verantwoordelijk voor vele honderden doden en het eind is nog niet in zicht. Wat je ook van de Moslim Broederschap mag denken, ze wonnen de verkiezingen op een eerlijke manier. Een belangrijke reden daarvoor was dat de mensen een bloedhekel hadden aan het leger dat zich onder Moebarak schuldig had gemaakt aan talloze misdaden. Nu wordt ons echter wijsgemaakt dat ditzelfde leger het land moet behoeden voor de partij van Morsi. En welke landen steunen deze militairen die zich dagelijks schuldig maken aan misdaden tegen de menselijkheid? Het blijken de grote vrienden van Amerika te zijn: Saoedi-Arabië, de Verenigde Arabische Emiraten en Israël.
Saoedi-Arabië steunt de militaire coup financieel, om eventuele stopzettingen vanuit Europa te compenseren. En Israël blijkt al langer nauwe banden te onderhouden met deze wrede generaal.
The Israelis, whose military had close ties to General Sisi from his former post as head of military intelligence, were supporting the takeover as well. Western diplomats say that General Sisi and his circle appeared to be in heavy communication with Israeli colleagues, and the diplomats believed the Israelis were also undercutting the Western message by reassuring the Egyptians not to worry about American threats to cut off aid.
En Obama? Voor wie nog twijfelde aan de macht van zionistische lobby in de Verenigde Staten is dit misschien een openbaring. Zoals we tot vervelens toe hebben gemerkt is terrorisme het toverwoord. De hele Moslim Broederschap blijkt nu een bende terroristen te zijn. Vandaar dat de machtigste pro-Israëllobby in de Verenigde Staten, AIPAC, op 31 juli een aantal senatoren heeft aangeschreven. Het moge duidelijk zijn dat dit geen verzoek, doch een opdracht betrof. Het stopzetten van militaire steun aan de gewetenloze moordenaar el-Sisi zou namelijk wel eens een negatief effect kunnen hebben op "onze bondgenoot Israël".
When Senator Rand Paul, Republican of Kentucky, proposed an amendment halting military aid to Egypt, the influential American Israel Public Affairs Committee sent a letter to senators on July 31 opposing it, saying it "could increase instability in Egypt and undermine important U.S. interests and negatively impact our Israeli ally." Statements from influential lawmakers echoed the letter, and the Senate defeated the measure, 86 to 13, later that day.
Internationale politiek is niet voor watjes. Saoedi-Arabië, de VAE en Israël staan alledrie bekend om hun ernstige schendingen van mensenrechten, maar hebben of heel veel olie, of een uitermate sterk leger, en zijn dus beste maatjes met het land dat zo graag democratie in de wereld verspreidt, onder andere met behulp van drones (UAV's).
The attitude towards UAVs, which were often seen as unreliable and expensive toys, changed dramatically with the Israeli Air Force's victory over the Syrian Air Force in 1982. Israel's coordinated use of UAVs alongside manned aircraft, allowed the state to quickly destroy dozens of Syrian aircraft with minimal losses.
Netanyahu, el-Sisi en Obama als de drie weird sisters, met dit verschil dat hun voorspellende krachten zich beperken tot self-fulfilling prophecies. Na Irak en Syrië is Egypte nu aan de beurt. Honderden of honderdduizenden doden, het maakt niet uit. Alles is geoorloofd zolang onze bondgenoot Israël er beter van wordt.
Engelbert Luitsz
NYT, How American Hopes for a Deal in Egypt Were Undercut
The Times of Israel, 'Israel undermining Western diplomatic efforts in Egypt'
The Jerusalem Post, Experts: Israel should lobby for Sisi – but quietly
Chemi Shalev, Sympathy for the devil: Israel's efforts on behalf of Cairo's generals
Ehud Barak over de steun van Israël aan el-Sisi
Huffington Post, Erdogan: Israel Behind Egyptian President Mohammed Morsi's Ouster
*In Nederland zijn veel verschillende schrijfwijzen te vinden. Persbureau ANP schrijft bijvoorbeeld Kaddafi, net als sites die daar gebruik van maken, als NU.nl en die van de Volkskrant. Trouw noemt hem Kadafi, terwijl de NOS het op Kadhafi houdt, waar RTL weer Khadaffi schrijft. Het ministerie van Buitenlandse Zaken schrijft liever Qadaffi.