"As we have explained, we have been given two radically different accounts of Israeli practice. It is not our role to adjudicate between them. But within them are certain undisputed facts which compel us to conclude that Israel is in breach of articles 2 (discrimination), 3 (child's best interests), 37(b) (premature resort to detention), (c) (non-separation from adults) and (d) (promptaccess to lawyers) and 40 (use of shackles)111of the United Nations Convention on the Rights of the Child. If the manner of arrest and detention is to a significant extent that which is described in paragraphs 36 and 37, Israel will also be in breach of the prohibition on cruel, inhuman or degrading treatment in article 37(a) of the Convention. Transportation of child prisoners into Israel is in breach of article 76 of the Fourth Geneva Convention. Failure to translate Military Order 1676 from Hebrew is a violation of article 65 of the Fourth Geneva Convention."
Children in Militairy Custody, 2012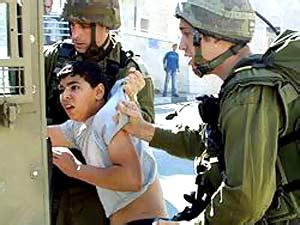 De IKON zond gisteravond, vannacht bijna, de documentaire When The Boys Return uit. Het is een impressie van kinderen van de West Bank die maanden of soms jaren in een Israëlische gevangenis hebben gezeten. Op elk moment zitten er een paar honderd Palestijnse kinderen in hechtenis. Vaak wordt het gooien met stenen aangevoerd, maar even zo vaak waren ze gewoon op de verkeerde plek, of werden ze door verklikkers aangegeven en door soldaten uit hun huis gehaald. Dat gebeurt vaak 's nachts en met veel geweld, waardoor hele families getraumatiseerd raken.
De kinderen krijgen geen advocaat en worden gedwongen een verklaring in het Hebreeuws te tekenen die ze niet kunnen lezen. Ook de kinderen vallen hier onder het militair recht, hetgeen in de praktijk inhoudt dat ze volledig zijn overgeleverd aan de willekeur van de een of andere officier. Daarnaast wordt het de ouders zo moeilijk gemaakt om op bezoek te komen dat de kinderen hun ouders vaak niet of nauwelijks te zien krijgen. Het gebeurt ook dat ze worden overgebracht naar een gevangenis in Israël. Daardoor worden ze volledig geïsoleerd. Veel wat Israël deze kinderen aandoet, zoals geweld gebruiken of eenzame opsluiting, is in strijd met het Verdrag inzake de rechten van het kind. Maar waarom zou je je daar iets van aantrekken als je ook alle VN-Resoluties naast je neerlegt?
Met behulp van cursussen wordt getracht de kinderen weer wat structuur en motivatie bij te brengen. Het is van groot belang dat ze toch proberen hun school weer te gaan volgen, of anders een beroepsopleiding te gaan doen. Het gaat ondertussen om vele duizenden kinderen die deze vreselijke ervaring hebben moeten ondergaan. Velen van hen hebben helemaal niets misdaan en zelfs voor hen die inderdaad met stenen hebben gegooid (wat praktisch nooit leidt tot schade of letsel) zijn de straffen exorbitant hoog. Nog niet zolang geleden werd er een jongen van achttien doodgeschoten op zijn verjaardag, op weg om een taart te kopen. De vrouwelijke militair die deze moedige daad verrichtte werd hiervoor bejubeld: het was haar eerste Palestijn, nu hoorde ze er echt bij!
En het blijft niet bij boze pubers. Onlangs werd er met veel machtsvertoon een kleuter van vijf jaar oud gearresteerd. Zijn vader werd geblinddoekt en in de boeien geslagen. Het moge duidelijk zijn dat deze tactiek van het leger gericht is op de ontwrichting van de Palestijnse gemeenschap en niets van doen heeft met de veiligheid van Israël. De nachtelijke raids zijn bedoeld om mensen altijd het gevoel te geven dat ze nergens veilig zijn, dat ze op elk moment het gebons op de deur kunnen verwachten en machteloos moeten toezien hoe de zwaarbewapende militairen ongehinderd hun gang kunnen gaan. Het beste bewijs hiervoor is wel dat die raids soms als oefening worden gedaan, zonder doel om iemand op te pakken, maar alleen om de familie te terroriseren.
Een jaar geleden verscheen een rapport van een groep Britse advocaten. In Children in Militairy Custody gaan ze diep in op de behandeling van kinderen door het Israëlische leger. Dit soort alarmkreten halen bij ons het nieuws niet. Men blijft liever vasthouden aan het beeld van een paar extremisten, alsof die de Palestijnse bevolking vertegenwoordigen, en alsof die het arresteren en vermoorden van kinderen rechtvaardigen. Ook ons NOS-journaal doet hier treurig genoeg aan mee. Maar gelukkig hebben we nog een paar omroeporganisaties met een geweten. When The Boys Return blijft nog even te zien op het themakanaal HollandDoc.
Het lijkt vechten tegen de bierkaai om dit land de basisbeginselen van fatsoen bij te brengen, maar gelukkig krijg ik steeds weer energie voor een nieuw stukje als de club van Esther Voet zich op tv vertoont.
Beelden van wat bekend staat als de Break The Bones Strategy. Kinderen worden met stenen bewerkt tot hun armen zijn gebroken. (vanaf 42 seconden)
Engelbert Luitsz
Zie ook het rapport van Breaking The Silence: Chidren and Youth – Soldier's Testimonies 2005-2011