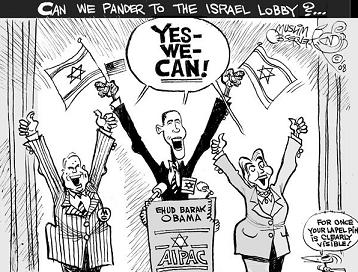 Gisteren spraken de Amerikaanse minister van Buitenlanse Zaken John Kerry en Nationale Veiligheidsadviseur Susan Rice anderhalf uur met een aantal pro-Israël lobbygroepen. Kerry benadrukte nog maar eens dat het besluit van de EU om geen prijzen en beurzen te verlenen aan bedrijven in de bezette gebieden erg slecht zou kunnen vallen bij premier Netanyahu. Dat zou slecht kunnen zijn voor de onderhandelingen. Iets wat we elke keer hebben gehoord: elke kritiek op Israël zou slecht zijn voor het vredesproces, in tegenstelling tot het koortsachtig doorbouwen aan nieuwe nederzettingen in de West Bank en Oost-Jeruzalem.
Dit is de indrukwekkende lijst van aanwezige joodse clubs.
the Conservative movement
the American Israeli Public Affairs Committee
J Street
the Anti-Defamation League
the American Jewish Committee
the Conservative movement
the Orthodox Union
American Friends of Lubavitch
B'nai B'rith International
the Jewish Council for Public Affairs
the Jewish Federations of North America
Hadassah
the National Jewish Democratic Council
the National Council of Jewish Women
the Conference of Presidents of Major American Jewish Organizations.
Dit is allerminst een volledige lijst. Het ware mooi geweest als ook enkele van onderstaande groepen aanwezig waren geweest, maar elk tegengeluid, ook en misschien juist van joodse kant, is kennelijk taboe in Washington.
Resolutie 446 van de Veiligheidsraad van de Verenigde Naties uit 1979 bepaalde dat:
the policy and practices of Israel in establishing settlements in the Palestinian and other Arab territories occupied since 1967 have no legal validity and constitute a serious obstruction to achieving a comprehensive, just and lasting peace in the Middle East
Het was een van de zeer uitzonderlijke keren dat de Verenigde Staten zich van stemming onthielden en niet hun veto inzetten. Des te schrijnender is het dat de formulering steeds verder verwaterd is. Men heeft het nu liever over "obstakels voor vrede", of "helpen het vredesproces niet". Netanyahu heeft ook laten weten dat medewerking aan het grootschalige wetenschapsproject Horizon 2020 niet doorgaat indien de EU blijft vasthouden aan de illegaliteit van de nederzettingen.
De leden van de verschillende pro-Israël lobbygroepen zijn vaak rijke en machtige joden die een prima leven hebben in de Verenigde Staten. Een leven bovendien waar ze zelf voor gekozen hebben. Daartegenover staan de ca. 10 miljoen Palestijnen die momenteel in de diaspora leven en zich nog dagelijks afvragen wat er met hun land is gebeurd.
Kerry zal hun mening niet vragen. Het enige wat de Palestijnen kunnen doen is afwachten hoe er over hen beslist wordt door mensen die geen enkele band met Palestina hebben.
Jamal al-Dalou is een overlevende van het bloedbad dat Israël in november vorig jaar aanrichtte in Gaza onder de bijbelse naam Operatie Wolkkolom. Jamal verloor in één keer tien leden van zijn familie toen zijn huis werd verwoest door een Israëlische raket. Het zou Obama, Kerry en de rest van de westerse wereld sieren als ze ook eens zouden luisteren naar degenen die het meest te lijden hebben onder de zionistische agressie:
What's the meaning of negotiations if we are still killed by missiles from Israeli F-16s and Apaches? What's the meaning of negotiations if the Israelis keep stealing our land, our heritage and everything meaningful in our lives? What's the meaning of negotiations if they besiege our land, sea and sky?
Engelbert Luitsz
Haaretz: Kerry, Indyk brief U.S. Jewish leaders on peace talks
The Electronic Intifada: "Peace" talks are meaningless, says survivor of Gaza massacre