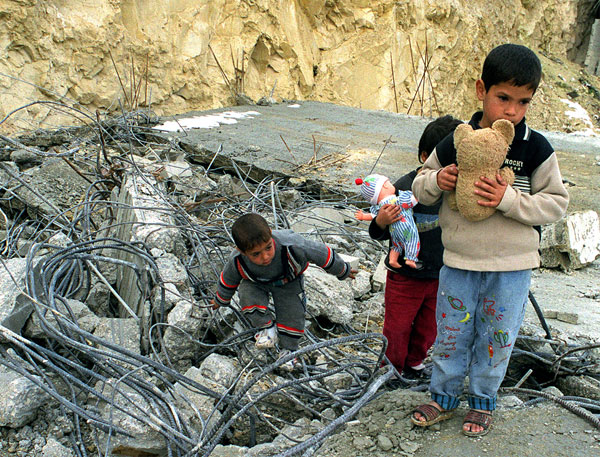 Nog voordat er ook maar iets bekend is over de onderhandelingen geeft premier Netanyahu al een voorzetje. De coalitiepartner Het Joodse Huis – een zeer nationalistische partij – dreigde uit de coalitie te stappen vanwege het vrijlaten van Palestijnse gevangenen. Zoals ik gisteren al berichtte waren die gevangenen onderdeel van een oude afspraak en hadden ze al in 1999 moeten vrijkomen. Dus het is niet alleen geen "goede wil", het is zelfs een smerige truc om een excuus te hebben nog meer te gaan bouwen op het moment dat men eindelijk weer samen aan tafel zit. De arrogantie van Likoed kent werkelijk geen grenzen. Maar het racistische Het Joodse Huis is een belangrijke troef voor deze rechtse regering. Dus ter compensatie beloofde Netanyahu de bouw van duizenden nieuwe woningen in de West Bank en Oost-Jeruzalem. Dat werd bekend gemaakt door de Israëlische, Hebreeuwse krant Maariv. Ook konden zij berichten dat er volgens Amerikaanse bronnen nooit is afgesproken dat er een bouwstop zou komen tijdens de huidige onderhandelingen. Het zal ook zeker niet zijn afgesproken om er nog een schepje bovenop te doen, lijkt me.
Een van de bezwaarmakers tegen het vrijlaten van gevangenen is de minister van Industrie, Handel en Arbeid Naftali Bennett. De goede man kwam deze week al eerder in het nieuws toen hij trots vertelde over de vele Arabieren die hij al had gedood. Hij vindt dat gedoe met gevangenen die je dan weer moet vrijlaten grote onzin, je kunt ze beter doodschieten.
Hier en daar probeert men de schijn nog op te houden dat er mogelijkheden zjin, of dat het een stap vooruit is. Dat is niet mijn visie. De aanwezigheid van de zionistische bemiddelaar Martin Indyk voorspelt uiteraard niet veel goeds. Dat is ook de mening van onder anderen Richard Falk die er op zijn blog dieper op in gaat: Reviving the Israel-Palestine Negotiations: The Indyk Appointment.
De NRC had het vandaag over de grootste obstakels voor vrede. Die kop klopt al niet: het gaat in de eerste plaats om rechtvaardigheid. Ik kan me niet herinneren dat er tegen het eind van het Apartheidsregime in Zuid-Afrika gesproken werd over zware concessies die beide partijen moesten doen. Als de relatie er een is van onderdrukker en onderdrukte moet de onderdrukker worden aangesproken op z'n gedrag, niet de onderdrukte. Israëls economie heeft twee grote peilers: de diamantindustrie en de wapenindustrie. Allebei zwaar besmet. Daarnaast is het de enige en illegale nucleaire macht in de regio. Daartegenover staan miljoenen Palestijnen die in armoede leven en voor een groot deel nog steeds – sinds 1948! – in vluchtelingenkampen leven. Zij zijn voor hun economie, onderwijs, gezondheid en levensonderhoud afhankelijk van organisaties die het opnemen voor de zwakkeren. De voorstelling van zaken als zouden deze onderhandelingen zich tussen twee min of meer gelijkwaardige partijen afspelen is dan ook grotesk.
Engelbert Luitsz