"I am not defending the Arab excesses. I wish they had chosen the way of non-violence in resisting what they rightly regard as an unwarrantable encroachment upon their country. But according to the accepted canons of right and wrong, nothing can be said against the Arab resistance in the face of overwhelming odds."
Mahatma Gandhi
"And now a word to the Jews in Palestine. I have no doubt that they are going about in the wrong way. The Palestine of the Biblical conception is not a geographical tract."
Mahatma Gandhi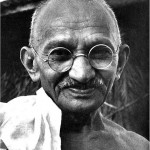 Gandhi had al snel in de gaten dat het nationalisme van de zionisten rampzalige gevolgen zou hebben voor Palestina. Vlak voor de Tweede Wereldoorlog schreef hij een redactioneel stuk voor zijn krant de Harijan waarin hij zijn positie ten opzichte van het zionisme uitlegt. Als iemand die uitging van principiële standpunten kon hij geen uitzondering maken voor de zionisten, al was hij zich terdege bewust van het antisemitisme in Duitsland. Het zionisme was daarop echter niet het juiste antwoord. Dat hij daarin werd bijgestaan door talloze Duitse joden is na de oorlog grotendeels in de vergetelheid geraakt. De dagboeken van de filoloog Victor Klemperer laten bijvoorbeeld zien dat veel joden glashelder inzagen dat er geen fundamenteel verschil was tussen de nazi's en de zionisten. De zionistische lobby probeerde uit alle macht uitspraken aan Gandhi te ontfutselen die hun zaak konden steunen, maar – anders dan bijvoorbeeld Frans Timmermans – bleef Gandhi trouw aan zijn inzicht.
G.H. Jansen schreef:
His opposition [to Zionism] remained consistent over a period of nearly 20 years and remained firm despite skilful and varied applications to him of that combination of pressure and persuasion known as lobbying, of which the Zionists are past masters.
Er is in de afgelopen 75 jaar veel veranderd, maar sommige dingen lijken nog net zo als toen. Gandhi was niet profetisch, hij keek gewoon goed om zich heen en reageerde op de actualiteit. Dat zijn woorden nu nog steeds actueel zijn komt doordat er in de houding van zionisten ten opzichte van de Palestijnen niets is veranderd. In één opzicht klinkt hij aan het begin van zijn artikel als Obama: "My sympathies are all with the Jews." Maar de cruciale wending komt iets later, en dat maakt het verschil tussen de huidige president van de Verenigde Staten en een werkelijk grote geest: "But my sympathy does not blind me to the requirements of justice." Juist je vrienden moet je de waarheid vertellen, het klinkt als een oase van redelijkheid die we in het huidige politieke bestel volledig zijn kwijtgeraakt.
Nog een paragraaf uit 1938 die gisteren geschreven had kunnen zijn:
Palestine belongs to the Arabs in the same sense that England belongs to the English or France to the French. It is wrong and inhuman to impose the Jews on the Arabs. What is going on in Palestine today cannot be justified by any moral code of conduct.
Zoals een journalist in die jaren al eens opmerkte waren de Duitse joden Duitser dan de nazi's. En ook de joden die Spanje eeuwen eerder hadden moeten verlaten, bleven Spaans spreken en verlangden terug naar het land waar zij zich thuis hadden gevoeld. Het waren de zionisten die probeerden alle joden een nieuwe identiteit aan te praten om hen te bewegen zich aan te sluiten bij wat hun rampzalige project zou blijken te worden. En ook dat was iets wat Gandhi goed had gezien.
The Jews born in France are French in precisely the same sense that Christians born in France are French.
Zoals zo vaak is er de bittere ironie van de geschiedenis. Gandhi vergelijkt de situatie van joden met die in Zuid-Afrika: "President Kruger used to say that the white Christians were the chosen of God and Indians were inferior beings created to serve the whites." Dat deze zelfde mentaliteit nu opgang doet in Israël, maar nu ten koste van de Palestijnen, is iets wat hem misschien niet had verbaasd als hij had geweten dat het zionistisch nationalisme zou zegevieren.
Professor A. K. Ramakrishnan schrijft:
There were an influential number of Jews who thought that force, only force, could ensure the establishment of a Jewish national home in Palestine. They adopted terrorism as the method to achieve their national goal. This policy of subjugation of the Palestinians by Zionist terror was totally rejected by Gandhi in no uncertain terms.
Alsof er in al die jaren niets veranderd is. Lydia de Leeuw, die in Gaza is op dit moment, schreef vandaag dat Gaza is veranderd in een spookstad. Niemand is veilig. Kinderen die op straat spelen kunnen door drones onder vuur genomen worden. (Het leven in Gaza is ontwricht) Ook journalisten worden niet gespaard.
En de totale paniek werd net nog verergerd door het strooien van flyers waarin de bevolking wordt gesommeerd 'Gaza onmiddelijk te verlaten'. Tegelijkertijd zijn er voortdurend geruchten over een mogelijke wapenstilstand. Een jong meisje stierf vandaag letterlijk van angst. Het terroriseren met militaire en psychologische middelen van 1.7 miljoen mensen die gevangen zitten en nog steeds geen duidelijke grens die aan Israëls wangedrag wordt gesteld door iemand die er echt toe doet. Het overgrote deel van de schuld voor wat er nu gebeurt ligt bij Israël, maar geen leider durft het aan eindelijk het beestje bij de naam te noemen.
Had men maar beter naar Gandhi of Klemperer geluisterd toen het nog mogelijk was een andere koers te varen. Het grenzeloos racisme waarmee het politiek zionisme begon en dat Israëls meest bekende exportproduct is geworden lijkt een onomkeerbare vloed te zijn geworden.
Engelbert Luitsz
Gandhi: Zionism and anti-Semitism
Prof. A. K. Ramakrishnan: Mahatma Gandhi rejected Zionism