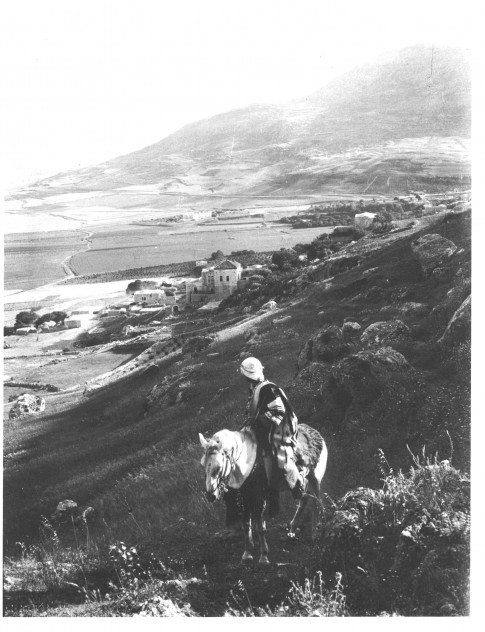 Een ruiter kijkt uit over het dorp Askar, ten oosten van Nablus in centraal Palestina
De foto is van de website Before Their Diaspora van Walid Khalidi
In mijn zucht naar meer en meer toegankelijke informatie ben ik begonnen aan een tijdlijn met meer opties. Nu kun je op een 'tag' klikken om alleen die items te zien met de desbetreffende tag; je kunt de selectie omkeren van oud naar nieuw of omgekeerd; je kunt op trefwoord zoeken binnen de uitgebreide informatie; en je kunt de headlines lezen of de items uitklappen voor meer informatie.
Ik ben pas bij 1950, dus er volgt nog veel meer. Daarnaast zal de lijst zeer regelmatig worden aangepast wanneer ik weer iets tegenkom in een boek of artikel.
Voorlopig is het nog testen of het allemaal goed werkt. De bedoeling is om de uitgebreide informatie zoveel mogelijk te voorzien van citaten met bronvermelding, dus er volgt ook een lijst met referenties. Er is uiteraard veel gebruik gemaakt van WikiPedia, maar zeker niet alleen.
Uiteindelijk moet het zo mogelijk zijn snel en efficiënt informatie te vinden over een specifiek onderdeel van de Palestijnse geschiedenis. Voor zeer specifieke historische lijnen, zoals aanslagen, doden, vernietigde dorpen etc. zal ik verwijzen naar websites die daarop gericht zijn.
De nieuwe tijdlijn is HIER te vinden (of via het menu aan de rechterkant).
Engelbert Luitsz