Vorige week zag ik een kleine, gele spin in mijn tuin. Vandaag ging ik kijken of ik hem kon terugvinden. Dat is niet gelukt. Of toch? Op een struik met witte bessen/bloempjes zag ik op een blad een wit bolletje zitten. Twee voorpoten dreigend vooruitgestoken. Ik dacht eerst dat het een soort teek was, maar bij nader inzien bleek het toch om een spin te gaan.
Nog maar eens op internet gesnuffeld en daar kwam ik exact deze tegen op gardensafari.net. Het bleek om de kameleonspin te gaan, zo genoemd omdat deze van kleur kan wisselen: geel of wit! Afhankelijk van de bloem waarop hij zich bevindt.
Het is dus best mogelijk dat dit precies dezelfde spin was die me enkele dagen geleden in knalgele gedaante was opgevallen.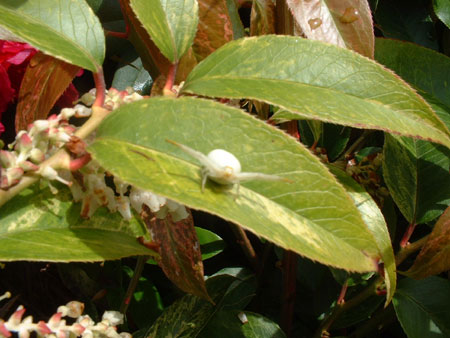 De Kameleonspin in mijn tuin (Misumena vatia)