"Het kind is de schaduw van de soldaten"
Ingrid Jonker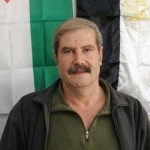 De Palestijnse schrijver en denker Ahmad Qatamesh zal bij de meesten geen belletje doen rinkelen. Hij is geen Antonio Gramsci, of Nelson Mandela. Nog niet, want hij zit weer gevangen. Qatamesh werd in 1992 opgepakt en gevangen gezet, zonder proces of enig bewijs voor de aanklacht dat hij een leider zou zijn van het Volksfront voor de Bevrijding van Palestina (Popular Front for the Liberation of Palestine – PFLP). Pas in 1998 kwam hij vrij, na zware druk van linkse Israëlische politici en kunstenaars. Dit werd – hoe cynisch kun je zijn – door de toenmalige premier Netanyahu aan het buitenland verkocht als een 'teken van goede wil'. Uiteraard werd zijn vrijlating uitbundig gevierd, de Palestijnen zijn met recht trots op hun schrijvers.
In april 2011 werd hij echter opnieuw opgepakt. Het Israëlische systeem van administratieve detentie maakt het mogelijk iedereen op te pakken, zonder dat er zelfs moeite wordt gedaan om een fatsoenlijke aanklacht te formuleren. Vandaag werd zijn detentie voor de vierde keer verlengd.
Het verslag van een arrestatie. In 1992 was Ahmad in het bijzijn van zijn 3-jarige dochter opgepakt. In dat eerste jaar werd hij ook gemarteld. Dit gebeurde er in 2011:
Om twee uur 's nachts op 21 april 2011 werd Ahmad Qatamish gearresteerd door het Israëlische Bezettingsleger in het huis van zijn broer in Ramallah. Een uur eerder waren zijn vrouw, zijn dochter van 22 en nog twee vrouwelijke familieleden, waaronder een kind van 14, in zijn huis gegijzeld om hem te dwingen zich over te geven. Tegen 1 uur 's nachts hoorden Ahmads dochter Haneen en zijn vrouw Suha op de deur bonken. Toen ze open deden zagen ze 30 tot 40 zwaarbewapende soldaten het huis omsingelen. [...] Haneen en haar moeder gingen hun tante van 69 en een 14-jarige nicht wakker maken. De soldaten ergerden zich aan hun gedrag en bevalen hen te stoppen, terwijl ze hun geweren op de hoofden van de vrouwen richtten. Een paar soldaten gingen naar het appartement dat een verdieping hoger lag en waarvan de eigenaren in het buitenland waren. Ze trapten de deur in en doorzochten het appartement.
In 1994, bij zijn rede tijdens de eerste zitting van het eerste democratisch gekozen Zuid-Afrikaanse parlement, droeg Nelson Mandela het gedicht Die kind (wat doodgeskiet is deur soldate by Nyanga) van de blanke Zuid-Afrikaanse Ingrid Jonker voor.
Afgelopen juni zagen we Koningin Elizabeth de hand schudden van de voormalige IRA-leider Martin McGuinness in Noord-Ierland.
Ahmads dochter was drie toen ze haar vader opgepakt zag worden door de soldaten. Ze is nu 23 en hoort dat haar vaders hechtenis opnieuw is verlengd. Opnieuw onder Netanyahu.
Het leed dat de zionistische schurkenstaat aanricht gaat veel verder dan dat van de direct betrokkenen. Toch leert de geschiedenis dat het soms tegen alle verwachting in nog goed kan komen. Putten Ahmad en zijn familie kracht uit dat feit om door te gaan en niet gek te worden?
Nederland verliest zich ondertussen in escapisme met de klucht van de komende verkiezingen, maar ons land draagt een zware verantwoordelijkheid voor de ellende in Palestina.
Laten we onszelf niet nog belachelijker maken: wij hebben het Internationaal Gerechtshof in Den Haag. De handlangers zitten om de hoek. We hoeven er alleen nog maar voor te zorgen dat de juiste mensen daar ter verantwoording worden geroepen.
Engelbert Luitsz
UPDATE 26-12-2013
Qatamesh opnieuw vrijgelaten
UPDATE 18-11-2013
EI, Israel detains Palestinian leftist without trial
UPDATE 7-9-2013
Noam Rotem, Critic of Israel, Palestinian Authority to remain under administrative detention
UPDATE 24-8-2013
De administratieve detentie van Qatamesh werd vandaag voor de 7e keer verlengd.
———————-
Amnesty International heeft al bij zijn eerste arrestatie in 1992 duidelijk gemaakt dat het hier gaat om een politieke gevangene:
https://www.amnesty.org/en/library/asset/MDE15/011/2012/en/e4bedf45-e641-4898-b69f-169181bd6e50/mde150112012en.html
Een artikel van zijn dochter Haneen over zijn arrestatie: http://electronicintifada.net/content/when-israeli-soldiers-came-arrest-my-father/9901
Een verslag van zijn arrestatie in 2011:
http://www.addameer.org/etemplate.php?id=156
Een interview uit 1998 met Ahmad Qatamesh:
http://www.freearabvoice.org/interviewSeniorAdministrativeDetaineeQatamesh.htm
In 1999 werd Ahmad Qatamesh zelfs vastgezet door de Palestijnse Autoriteit vanwege een protest tegen corruptie (over principes gesproken!): http://www.phrmg.org/pressrelease/1999/04dec1999.htm